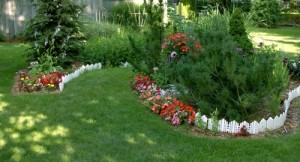 It's officially March, and with that comes both the promise of spring and the preparation for an upswing in the local real estate market. As Katy, TX real estate agents, we always brace ourselves at this time of year because it's common for people to start contacting professionals to ask what they need to do to start preparing their home for sale. The most recent market statistics indicate that home buyer activity is on the rise in Katy, TX and nationally, so if you're interested in putting your home on the market this year, now would be the time to start the preliminary preparatory processes.
As your premier real estate resource for the Katy, TX area, we feel that it's incredibly important to guide and advise our clients on how to best prepare their home for sale. With the spring market just around the corner, we thought that we'd provide a checklist of sorts to help those who are thinking of listing their home start getting it ready to show. It's always best to start with the outside and work your way in.
Spruce up your curb appeal. The term "curb appeal" is affectionately used by Katy, TX real estate agents to refer to the condition of your home's exterior. Several buyers will judge a book by its cover, and there is no second chance to make a strong first impression, so it is imperative that the outside be just as pristine as the inside. Inspect your home for water damage, apply coats of paint where needed, get a fresh Welcome mat and make sure your landscaping is up-to-par. You want your Katy, TX home to look taken care-of, not worn-down, so don't skimp on the exterior enhancements.
Rid the roof of any and all debris. Twigs, branches, dirt and tree needles can get stuck in gutters throughout the roof of your home easily. All it takes is a storm or two for the buildup of debris to begin. In order to protect yourself against any and all water damage that could come from roof dam buildup, make sure you rid your home of these common sediments before you start showing the property. Katy, TX home buyers are very particular about the condition of the roof because it can be a costly thing to fix. Taking steps early-on will help avoid a potential deal breaker later.
Head inside and get rid of unwanted odors. From the garbage disposal to the toilet, there are several places in a house where the odor may not be completely clean and fresh. The solution is to take the time to clean out areas that can easily develop an odor. Clean the garbage disposal thoroughly with some vinegar, baking soda, salt and boiling water. Clean out and scrub down the fridge to get rid of mold and buildup. Check all appliances for plumbing leaks as you clean them. Taking this precaution now will get your house cleaned up in time for spring and create an odor-free atmosphere.
Inspect and repair drywall imperfections. If there is one thing that you want pristine and perfect during the showing of your Katy, TX home, it is your walls. Having holes or patches in your drywall will be a major deterrent for home buyers during showings. It makes your property look neglected. If there is any project that you want to take on during this month, it should be to go around your home with some lightweight putty and a spatula and start patching up the drywall. It will make your home look much better, and it's a home maintenance project that you can easily do yourself.
As your Katy, TX real estate agents, we feel that doing some of these home maintenance projects now, before the spring market takes off, will get your home ready to sell early! That way, you can focus on preparing yourself for the big change that comes along with selling your home. These quick tasks are easy to do yourself and relatively cost-effective. If you have any questions about what you need to do to prepare your home to sell on the Katy, TX real estate market, don't hesitate to contact us! We're here to be your go-to resource for everything Katy. We hope to hear from you soon!
Mickie Cioccia
Mickie C and Company Realty
Check Out Our Website
See Katy and Houston, TX Homes for Sale
Become Our Facebook Fan
Follow Us on Twitter
Connect With Mickie on LinkedIn
Contact Our Team
Share on Facebook