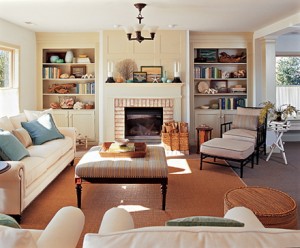 Numerous studies have shown that staging techniques make a home sell faster, and in my experience as a Katy, TX real estate agent, I've seen similar results. I encourage my seller clients to utilize staging in their Katy, TX real estate transaction in order to showcase their home in the best possible light as a buyer walks through it. If you use this tactic the right way, the home buyer should be able to insert themselves and their possessions into your home during the initial showing. If you can achieve this, you will have more offers coming in the door early-on in the process.
Throughout my many years of experience in selling homes in the Katy, TX real estate market, I've noticed that there are a few staging secrets that will make your property stand out from the competition. Here are the six most effective:
1.    Neutral paint. Some rooms in your home might be in dire need of a paint job, and re-painting is a relatively inexpensive upgrade. You will, however, want to stick with neutral colors in order to draw attention to other distinguishing features of the room, such as how spacious it is, the various things that it can be used for, the gorgeous fireplace or stainless steel appliances, and other amenities. This is what will reel the buyer in, not the paint color of the room. If you go with a color that is too bright, it can actually be distracting and draw attention away from these distinguishing qualities, so you'd be wise to stay more neutral if you repaint.
2.    Have every room be furnished, but don't over-do it. Leaving a room empty is unwise because it's difficult for a buyer to imagine what they can do with a large, empty space. Having too much furniture won't work either because it will take the buyer's imagination away, and all they'll be able to see is what you've done with it. The solution is to have neutral, nice-looking furniture in each room that doesn't overcrowd the space.
3.    Utilize your TV for something other than your favorite shows. If you have a mounted, flat-screen television, use it! Play slideshows of photos of nature or your home to add something a little extra to the buyer's showing experience. Many others in the area may not think to do this, so it'd be a great way to truly stand out from your competition.
4.    Fill in the walls a bit. You don't want over-the-top artwork or large family portraits hanging on the walls, because that can over-personalize the home and keep the buyer from visualizing themselves as your property's new owner. You should, however, utilize soothing artwork, mirrors and small family photos to fill up the wall space. This will make your property look more inviting as a whole. Once again, you don't want to over-do it, but some small touches here and there will make your home look nice.
5.    Fresh cut flowers will make the place feel more inviting. Not only will they make your home smell delicious, but they will also make a room look complete and comforting. Strategically place these floral arrangements throughout the home for a more tied-together look. They would make great centerpieces for prominent tables and countertops throughout your home.
6.    Keep the bedrooms gender-neutral. Some buyers may not have children, or may have kids of different genders than yours. The more gender-neutral each bedroom, the easier it is for a buyer to envision it being used for their family's needs. Décor that is too gender-specific can be distracting and will actually turn a lot of buyers off.
As a Katy, TX real estate agent, I make these staging suggestions to my seller clients in order to ensure that their home gets sold quickly and for the best possible value. These insider secrets will take your staging efforts to a new level, and they'll be instrumental to you standing out from your competition. Make sure you stage during your Katy, TX real estate transaction.
If you have any questions about staging your home on the Katy, TX real estate market, or would like to know more about the home selling process, don't hesitate to contact me and ask. I'd be thrilled to help you! I hope to hear from you soon.
Mickie Cioccia
Mickie C and Company Realty
Check Out Our Website
See Katy and Houston, TX Homes for Sale
Become Our Facebook Fan
Follow Us on Twitter
Connect With Mickie on LinkedIn
Contact Our Team
Share on Facebook