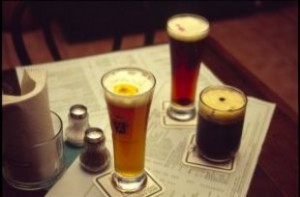 My role in the Katy, TX community extends far beyond that of a real estate agent. Sure, I work hard to help my clients with their Katy, TX real estate needs, but I'm also incredibly dedicated to the town itself. I make it a priority to stay involved in many community organizations and give back to various causes around the area, and my position as a Katy TX Rotary Club member is just one of the many ways in which I give back to the town I live in.
As a dedicated and involved Rotary member, I take it upon myself to promote all of our events. The one that is coming up this weekend is perhaps one of my favorites, and that is the Wild West Brew Fest! Taking place this Saturday, June 23rd from 2:00pm-6:00pm, this event presents the perfect opportunity to benefit local non-profit organizations while enjoying a wonderful beer tasting. Here are some of the most important details about the event. Mark it on your calendars!
•    You'll be supporting the Katy Rotary Scholarship Fund and many other non-profits in the Katy, TX area. Not only will you be able to have fun, but you'll do so knowing that you're helping out some wonderful causes in your own backyard.
•    The event will be held at the Villagio Town Center, at the corner of Westheimer and South Peek Road in Katy.
•    This brew fest is the first of its kind for the area, making it one of the most fun-filled and beneficial Rotary fundraisers that we have all year.
•    Tickets are limited, so get yours today! You, of course, must be over 21 with a valid ID to receive a drink-tasting wristband. It costs $25.00 for a food and drink-tasting bracelet. If you're a designated driver or food-only guest, tickets are only $15.00. Since all proceeds benefit various community causes, you'll get to enjoy over 25 craft beers and delicious food for a reasonable price and charitable causes!
•    Enjoy live music from Horizon. This talented and entertaining country music band provides audio, premium video and amazing lighting. This isn't your run-of-the-mill entertainment for a community event. Horizon puts on a professional-looking show and will absolutely exceed your expectations. If you don't go for the food or beer, at least come for the concert! You won't regret it.
My role as a Katy, TX real estate agent is only enhanced by my involvement in the community. As a Rotary member, I take it upon myself to really give back to my area of service and promote all of the amazing events the organization throws each year. The Wild West Brew Fest is a great way for the town of Katy, TX to gather together, have a little fun and help out various causes for our community.
If you have any questions about the Wild West Brew Fest, don't hesitate to contact me and ask. Also, tickets are running out, so make sure you get them here! I hope to see you all this Saturday at the event!
Mickie Cioccia
Mickie C and Company Realty
Check Out Our Website
See Katy and Houston, TX Homes for Sale
Become Our Facebook Fan
Follow Us on Twitter
Connect With Mickie on LinkedIn
Contact Our Team
Share on Facebook