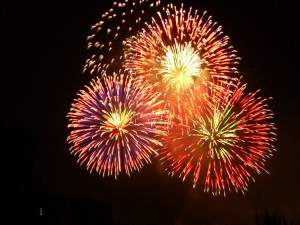 Can you believe it's already July?! It seems like just yesterday we were decorating the Christmas tree and celebrating the winter holidays. Six months into the New Year, we now have plenty to look forward to in Katy, TX! With the Fourth of July just days away (Wednesday, don't forget!) many of us are cleaning our grills, decorating our backyards and stocking up on food and party favors. Barbecues aside, there is plenty to do in and around Katy this week, and as your Katy, TX real estate agent and community resource, it is my job to make sure you have all the details.
Freedom Celebration Fireworks: You won't want to miss this! The 23rd Annual Katy Freedom Celebration Fireworks display will take place Wednesday, July 4th. Come on out to Katy Mills Mall and watch the skies light up ablaze with color. As always, the display will begin at dark, or around 9:00pm. For the best views, save your seats early! A blanket, chairs and snacks are recommended.
July 4th Jamboree: Celebrate Fourth of July with the entire family this year at the July 4th Jamboree. Complete with live entertainment (including local Texas bands), a firework display and moonwalks. There will also be water activities including paddleboats, inflatables and waterslides. What more could the family ask for on the Fourth of July? For admission info and further details, check out KatyMagazine.com or SmithRanchKaty.com. Hope to see you there!
Big Backyard Barbecue: Music, food, drinks and fun for the kids. What a great way to spend Fourth of July, no? Here in Katy we know how important this day can be and go all out for the big celebration. This year the Big Backyard Barbecue will be bringing plenty of musical talent, including Pirate Radio and Outlaw Lynn & Who's Driving. Grab yourself a bite to eat while the kids enjoy face painting, clowns and much, much more.
Sundaes at Traditions Bank: Who doesn't love ice cream on a hot summer day? Traditions Bank will give you just that tomorrow, July 3rd in honor of the men and women who service our country. Don't miss out on enjoying this patriotic sweet treat – indulge at any one of Traditions Bank's three Katy locations.
Independence Day aside, Katy has a bunch of other great events going on throughout the week and through all of July. Stay in touch with my blog to stay up to date on everything and anything Katy as well as the latest tips and tricks in real estate. While I love providing my clients with local info, my real forte is real estate. If you are in the position to buy or sell your Katy home, feel free to contact me any time and I will do my best to ensure a stress-free transaction.
Mickie Cioccia
Mickie C and Company Realty
Check Out Our Website
See Katy and Houston, TX Homes for Sale 
Become Our Facebook Fan
Follow Us on Twitter
Connect With Mickie on LinkedIn
Contact Our Team
Share on Facebook