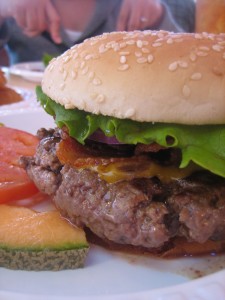 Who doesn't love a new restaurant opening? One of the perks of living in Katy, TX is that there always seems to be a new delicious-sounding eatery entering our midst. I consider it a priority, as a Katy real estate and community expert, to stay on top of the local businesses that plan on setting up shop in the area. I'm always happy to help publicize and spread the word about new businesses. It gives the town's residents more options for their dining and service needs and gives newcomers a sense of what's available to them in their new home.
Burger lovers all over Katy, TX should be excited for this new addition to town. Carl's Jr. is a burger chain, based primarily in California, which features everything from fresh charbroiled burgers to wonderfully satisfying breakfast fare. You can also enjoy chicken dishes, salads, and a number of mouth-watering side dishes and desserts that will satisfy your sweet tooth. Opening on the corner of Westgreen and I-10, this restaurant will be centrally located for the entire community's enjoyment. Keep your eyes peeled for the grand opening of this mouth-wateringly delicious burger place!
One of the reasons that I place so much emphasis on new business openings and additions to the town's economy is because it represents the development and growth of the area that draws so many home buyers to Katy, TX. One of the community's largest selling points is that it's an up-and-coming area with a lot to offer, and the arrival of a new restaurant showcases that. I also believe that events such as restaurant openings and storefront reveals bring everyone together to celebrate a new addition to town. One of the best qualities that Katy, TX possesses is its close-knit and supportive community, and when everyone comes out to support a new economic venture, that characteristic really shines through.
If you have any questions about what local businesses or restaurants are coming to Katy, don't hesitate to contact me and ask. I make it my mission to know the goings-on around town. I can also assist you with any of your home buyer or seller needs.  I'd be thrilled to help you in any way I can. I hope to hear from you soon.
Mickie Cioccia
Mickie C and Company Realty
Check Out Our Website
See Katy and Houston, TX Homes for Sale 
Become Our Facebook Fan
Follow Us on Twitter
Connect With Mickie on LinkedIn
Contact Our Team
Share on Facebook