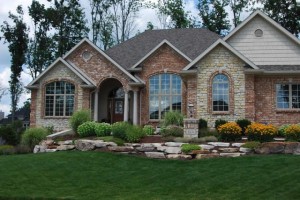 Summer is drawing to a close in the next month, and that means that now would be the ideal time to do those exterior repairs and quick fixes. The fall market is quickly approaching, and soon many home buyers will be beginning their search for the perfect property and other sellers in the Katy, TX area will be putting their home on the market. Curb appeal is one way to truly make your property stand out from the competition.
Part of what I do as a Katy, TX real estate agent is guide my seller clients throughout the entire process of preparing and listing their home. Making your property's exterior perfect is just as important, if not even more important, than making its interior perfect. A buyer's initial impression of your home will be based solely on how it looks from the curb. Right now is the perfect time to start those tweaks to your home's exterior. Here are a few ways that you can take your curb appeal to the next level:
Make your windows sparkle and shine. Not only will clean windows make your home look well taken care-of, but it will also allow more natural light to shine through. Summer means sunshine and clear skies. Use that to your advantage when you list your home and let the natural lighting make your home's inner beauty shine through.
Prep your front door to perfection. Think of your front door as the first sign of communication to a potential home buyer. It will either say "Hi, nice to meet you!" or "Turn around and don't come back." You want your front door to look welcoming and inviting to people who are about to enter your home. If it looks dreary, then a buyer won't be as excited to take a look around. Whether you need a new screen door, a fresh coat of paint, a different Welcome mat, or all three, make sure your front door gives a friendly message.
Repair your rooftop ahead of time. Home buyers will balk at roof issues, so make sure your rooftop is in tip-top shape and the gutters are clear before showings begin.
Perfect your paint job. Nothing is more unattractive to passerby than peeling paint. Make sure that bare spots are covered and that you repair any rotted wood in your home. The better the paint job looks, the more well-maintained and brand-new your home looks. Believe it or not, this does make a large difference to home buyers when they first lay eyes on your property.
Clean up your landscaping. Nothing makes a home look more neglected than an overgrown lawn or a garden overrun with weeds. Take some time to make your lawn, garden and yard look as pristine as possible. A well-maintained entryway will give the impression that you've taken good care of your property as a whole.
These are just a few quick tricks of the trade to make your Katy, TX home look as perfect as it possibly can come showing time! Remember: you never have a second chance to make a first impression. A buyer's thoughts of your home upon first glance will stay with them as they walk through its interior.
If you have any questions about selling your home on the Katy, TX real estate market, don't hesitate to contact me and ask. I'd be happy to help in any way that I can. I hope to hear from you soon!
Mickie Cioccia
Mickie C and Company Realty
Check Out Our Website
See Katy and Houston, TX Homes for Sale 
Become Our Facebook Fan
Follow Us on Twitter
Connect With Mickie on LinkedIn
Contact Our Team
Share on Facebook