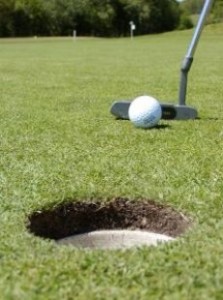 It's no secret that I love to look for the latest business openings in the Katy, TX and Houston areas! I feel that it keeps my community in-the-loop about how our area is growing constantly. I was particularly excited when I heard about this latest opening. In case you couldn't tell from the title of this blog, golf lovers everywhere will be ecstatic to hear about the latest attraction coming to Houston this fall.
TopGolf is a state-of-the art driving range that allows patrons to hit golf balls containing microchips that track each shot's accuracy and distance. You can make the experience competitive, as each golfer is awarded points for hitting targets ranged from 20-240 points. What makes TopGolf stand out isn't simply the state-of-the-art technology and competitive atmosphere. The facility also has a full-service bar and delicious menu for your enjoyment. It takes your run-of-the-mill driving range and turns it into a place where you can have fun and work on your golf swing at the same time.
Opening in London in 2000, TopGolf facilities have entered the US, with locations in both Allen and Dallas, TX. This fall, Katyites can expect to find a new, state-of-the-art TopGolf in the nearby city of Houston. Located at 1030 Memorial Brook Blvd, there's no doubt that this will be the newest hotspot for golfers in the area. The new location will feature three floors with over 102 bays for the area's aspiring golf pros! You can also enjoy a number of lively bars, a stunning rooftop terrace and a fun-filled golf game concept unlike any that you've ever seen.
This new, local golfer's paradise promises to be the perfect combination of neighborhood sport's bar and driving range. Keep your eyes peeled for the grand opening! You can even monitor construction progress each day by watching the facility's live webcam. We'll keep you posted on more specific opening dates when we hear word of when it will open!
As a Katy, TX real estate agent, I make it a priority to report on new business openings in the area for a number of reasons. Besides the fact that it establishes me as a community expert, it's also a way for me to help my buyer clients who are new to the area meet new people and get acclimated to their new home. Since new business openings are a draw for the community, people who have recently relocated to Katy can count on meeting some of their new friends and neighbors at these events. I also love when the Katy/Houston areas offer even more exciting, entertaining attractions because it helps me sell our community to potential home buyers, which makes my seller clients very happy!
If you have any questions about the latest happenings in the Katy, TX or Houston areas, or you would like to see some of the homes available for sale in our community, don't hesitate to contact me and ask! I'd be thrilled to help you in any way that I can. I hope to hear from you soon!
Mickie Cioccia
Mickie C and Company Realty
Check Out Our Website
See Katy and Houston, TX Homes for Sale 
Become Our Facebook Fan
Follow Us on Twitter
Connect With Mickie on LinkedIn
Contact Our Team
Share on Facebook