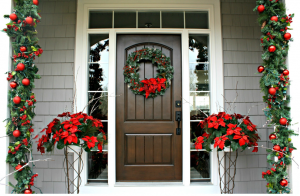 With Christmas only a week away, chances are you're getting your home in Katy TX prepared to host family and friends for the holiday!  There are always a number of details to remember when preparing for guests, but it's important to not forget your Katy homes' curb appeal!
As a Katy TX Real Estate agent, I can't help but notice homes as I drive by as curb appeal is an important aspect of a home.  You may even currently have your home on the Katy Real Estate market making that good first impression of your home even more important!  But, whether you're hosting family this holiday season or you're attempting to get your Katy home sold soon; here are a few tips for creating great curb appeal for your home in Katy!
1. Safety– You may have friends and family planning to visit soon, so you'll want to put safety first! Be sure your driveway, sidewalk and front porch are cleared of debris.  Also, be sure to secure any loose stones or steps that could be hazardous along the path up to the front door.
2. Tasteful Decorations– While you can have fun with the season's bright lights and characters of Christmas, it can be easy for some to get carried away. Try small white lights around your homes' bushes or front porch post, a simple wreath and garland to enhance your home's appearance without being too distracting.
3. Fresh Paint– Your Katy TX home may be more visible in the winter months as trees have fewer leaves and your home's condition is more exposed. Touching up chipped or faded paint is a great way to help your Katy home look refreshed.
4. A Neat Lawn– Be sure to keep your lawn free from any leaves, twigs, etc… that may have blown through with the stronger winds. Just because your lawn is not expected to be as lush as the summer months, doesn't mean to ignore the state of your lawn. Keeping it cleaned up will show that you care.
5. Clean Gutters– It's not too late to make sure your gutters are free from leaves and other debris. You'll want these cleared so that rain can easily run through the gutters and not cause damage.
6. Lighting– The use of lights can really make your home stand out with the shorter winter days. Since there is more time without the suns' light, using a variety of lighting can give your home a warm glow. Indoor window lights in each room provides a nice appeal, while lights along the pathway up to your home, a bright porch light and tasteful Christmas lights are all ways in which to enhance your Katy TX homes' curb appeal.
I hope these tips inspire you to take a second look at your homes' curb appeal and to think through ways you can make guests, or even possible buyers, feel more welcome in your Katy home.
I'm always here to answer any questions you have regarding selling your Katy home or living in beautiful Katy Texas!
Mickie Cioccia
Mickie C and Company Realty
Check Out Our Website
See Katy and Houston, TX Homes for Sale 
Become Our Facebook Fan
Follow Us on Twitter
Connect With Mickie on LinkedIn
Contact Our Team
Share on Facebook