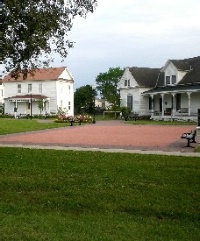 It's exciting that we've entered into a new year!  I hope you all had a great holiday season and are enjoying the first few days of 2013.  As a Katy TX Real Estate agent, I love to reflect back on the past year and all that took place.  One of the things that I'm truly thankful for as I look back is something that I know will always be a highlight of the year is the chance to live in a place like Katy TX!
For those of you who've grown up in Katy or who have lived here for even just a year, you're well aware of the excellent quality of life that Katy has to offer.  If you're visiting this site to learn more about Katy TX in hopes of making it your new home; I'd like to welcome you and let you know you're in for a treat!
Buying a home in Katy is something  many have looked forward to since the first settlers came to Katy in the mid-1800's.  At the time, there was nothing more to Katy than a large prairie with roaming buffalo, cattle and deer.  In fact, when the settlers first arrived, they called the area Cane Island named for the cane-break filled creek that still runs through it today.  However, by the time the railroad came through in 1895, people had begun calling the area Katy and by 1898 with the addition of the train depot; Katy TX was a flourishing city that drew many to build their American dream on its' land.
Katy is rich in historic charm, and if you'd like to learn more about Katy and its history; I'd encourage you to take part in the Historic Homes tour!  Of course, as a Katy Real Estate agent, I'm drawn towards the beautiful homes that are throughout Katy and the Historic Homes Tour is a really fantastic way to see some of the gems of Katy.  Here are a few more details!
Historic Homes Tour
Katy Heritage Park
5990 George Bush Dr., Katy
Saturday, January 5 through Sunday, January 6
– This free tour takes place the first weekend of every month and is open to the public!  Learn Katy history during tour of homes, exhibits, and displays. Open from 10 a.m. – 4 p.m. on Saturday, and 1 – 4 p.m. on Sunday. For more information call 281-391-2550 to speak with one of the docents.
I hope you're able to get out and enjoy this tour that will give you greater insight into the history of Katy.  It's a great way to start out the year whether you've lived here for years or want to discover more about the area.
As always, I'd love to talk with you more if you have questions about living in Katy TX or the current Katy Real Estate market. There are a number of beautiful homes currently available in Katy TX from which to choose, so feel free to contact me anytime to get started!
I look forward to working with you to achieve your real estate goals in the new year!
Mickie Cioccia
Mickie C and Company Realty
Check Out Our Website
See Katy and Houston, TX Homes for Sale 
Become Our Facebook Fan
Follow Us on Twitter
Connect With Mickie on LinkedIn
Contact Our Team
Share on Facebook