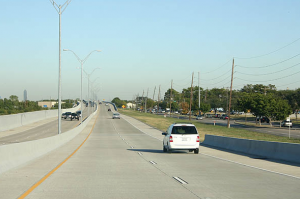 Fort Bend County is on the move with continuing growth in its' communities.  As Katy TX and the surrounding cities experience an ever growing population, new businesses and an increasingly attractive quality of life; Fort Bend County is seeking to keep up!
While this is great news, it also means that expansion is necessary in many areas, which includes our roads and highways.  The county is finding that in order to handle the increased traffic and keep our roads safe, construction is vital.
In fact, an expansion of the Westpark Tollway has been in the works for a few years with  behind the scenes with surveys, engineering, mapping reports and other TXDot requirements.  Widening this road from two to four lanes where the tollway becomes FM 1093 will help with the congestion and the possibility of stopping the growth of the county.
In 2004, when the tollway opened, it did its job in taking some of the traffic off of I-10.  Yet, the Westpark Tollway was quickly at capacity and has been needing an expansion for some time now.  Fulshear Mayor Tommy Kuykendall noted that, "Between growth in the subdivisions and communities west of Fulshear, expasion of FM 1093 has become a priority for the city."
The project is expected to cost around $60 million with the county contributing $10 million and the Fort Bend County Toll Road Authority taking car of $40-50 million.  The Fort Bend County Commissioner Any Meyers said that "the county will eventually recoup their share of the costs through property taxes from development that occurs from more territory being opened up with the expanded road."  To learn more about the project, construction estimates and more; please visit the Fort Bend County Toll Road Authority website.
As a Katy TX Real Estate agent, I find it's important to bring you the latest news and updates on, not only the Katy TX Real Estate market, but what's happening in the community as well.  Buying a home is so much more than the four walls you call "home."  It also consists of finding a community and lifestyle that fits your needs and wants, and I can attest that Katy TX is a great place to live!
If you have questions about the Katy TX Real Estate market or you're interested in learning more about the lifestyle in Katy TX; please feel free to contact me today!
Mickie Cioccia
Mickie C and Company Realty
Check Out Our Website
See Katy and Houston, TX Homes for Sale 
Become Our Facebook Fan
Follow Us on Twitter
Connect With Mickie on LinkedIn
Contact Our Team
Share on Facebook