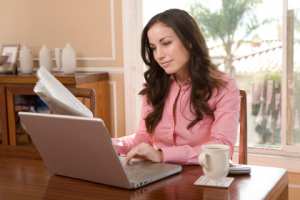 Thanks for taking the time to stop by my Katy TX blog!  I enjoy highlighting things that are taking place in the Katy TX community as well as providing you with real estate tips, advice and updates!
Last time, I pointed out ways to make your Katy TX home stand out on the real estate market this spring if your goal is to sell.  But, what if you're hoping to buy a Katy TX home in the next few months?  Read on!
Spring is all about getting a fresh start on things and many buyers flock to the Katy TX Real Estate market to view the homes.  People take time to spring clean their homes and get organized.  But, if buying a home is on the horizon; you'll want to take some time to spring clean your finances before you begin shopping for a home!
Here are six tips for making sure your finances are in order for buying a home in Katy TX!
1. Check your credit report and fix any errors– By law, consumers have the right to a free annual credit report. Take advantage of getting a free credit report, but always be sure to check out its accuracy. Many times, there are errors or may contain outdated information, which could affect your score negatively. If you do find a mistake, make sure you contact the corresponding credit bureau in order to dispute the errors.
2. Review your budget– It's helpful to make time to sit down and check your monthly budget. If you are saving to buy a house, for example, periodically reviewing your budget will help you get rid of unnecessary expenses allowing you to save more.
3. Review your monthly withholdings – There is no reason for you to give an interest-free loan to Uncle Sam! By reviewing your monthly withholdings you may be able to put more money in your pocket or savings account every month. Of course, consult with your tax advisor before making any changes to your withholdings in order to avoid owing money to the IRS at the end of the year.
4. Review your financial emergency plan – Planning for unexpected events can give you peace of mind. A good rule of thumb is to have six months worth of expenses saved in an emergency fund. Think about your monthly expenses (like rent or mortgage payments, utilities, car payments, insurance, credit card payments, etc.) and figure out how much you would need to have in a savings account in order to pay for these items for six months. Don't get discouraged if it takes time to build up your emergency fund, any amount is better than no savings at all. Also, make sure that if you become incapacitated, there is someone you trust to handle your finances.
5. Sign up for paperless statements – Signing up for paperless statements and paying your bills online will help keep your mail under control while saving trees at the same time. A lot of banks and credit unions offer online bill pay services for free. Take advantage of this and join the "green" movement.
6. Consolidate accounts– When you're budgeting, sometimes it's helpful to separate accounts. For example, if you are trying to save for a special purchase or an emergency fund, you may have your employer deposit a portion of your paycheck directly into your savings account. But having many accounts can make keeping track of them difficult. When that becomes the case, it's time to consolidate your accounts. Before making this decision, check with your financial institution to make sure there aren't any penalties or fees for canceling an account.
By getting your finances in order now, you'll be better prepared to buy a Katy TX home this spring!
I'm always here to answer any questions you have about buying a home or if you'd like to learn more about the Katy TX Real Estate market.  I look forward to hearing from you!
Mickie Cioccia
Mickie C and Company Realty
Check Out Our Website
See Katy and Houston, TX Homes for Sale 
Become Our Facebook Fan
Follow Us on Twitter
Connect With Mickie on LinkedIn
Contact Our Team
Share on Facebook