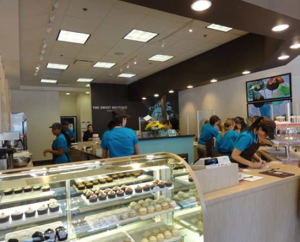 As a Katy TX Real Estate agent, I can honestly say that I love living and working in the beautiful city of Katy!  Many who visit Katy TX are able to immediately see its' charm and find that it's the ideal place to settle.  I always enjoy letting buyers know what makes Katy so unique and about the fantastic lifestyle that's offered.
2013 has already brought about some great changes for Katy TX and more are on the way!  It seems as thought Katy TX is continuing its' growth pattern with more people relocating to Katy each month, and new businesses popping up all over the city!
If you're new to Katy, or have lived here for some time; I thought you'd like to know about some of these new developments!  I believe in supporting local businesses to help them succeed and to help Katy TX continue to grow, develop and be that appealing city where people want to live.
Today, I wanted to point out a few new tasty businesses and a beautiful event space you'll want to be sure to check out!
Great Harvest Bread Company
1623 South Fry Rd, Katy
– The Great Harvest Bread Company hosted their grand opening on February 8th of this year and have been luring in customers ever since!  Their purpose and passion is to provide you and your family with the freshest and most flavorful baked goods you've ever tasted. You'll always be in for a treat with a free slice of hot-out-of-the-oven bread or a taste of legendary sweets! The Great Harvest Bread Company is locally owned and community focused.  Connect with this great new company by visiting the Great Harvest Bread Company web site.
The Sweet Boutique
23501 Cinco Ranch Blvd., Ste. R100 (in LaCenterra), Katy
– On February 16, Owners Martin and Christine Nguyen opened their second The Sweet Boutique store.  The first is located in Sugar Land and opened in June 2011.  Because of its' great success they decided Katy would be the best site for expanding.  The boutique bakery sells cupcakes, macaroons and custom cakes, and soon will feature other pastries such as eclairs and cream puffs. The Sweet Boutique can cater parties, weddings, and offers to-go orders as well as an online ordering service. For more information, visit The Sweet Boutique website!
Canvas Event Space
22758 Westheimer Parkway, Ste. 220, Katy
– Katy's latest event space, Canvas, is set to open in mid March. Owned by Evon Hood, the banquet hall will provide an upscale facility for parties, dinners, weddings and other social events. Exclusive pre-booking prices will be available soon on the business' Facebook page, and a website is also under construction.  Be sure to connect with Canvas Event Space via Facebook!
I hope you're able to take the time to visit these new local establishments and support them to help Katy TX to continue to grow!  Katy TX is a great community of which to be a part and I guarantee you'll love Katy as much as its current residents before too long!
I'm always here to answer any questions you have about living in Katy TX and would be happy to sit down with you to discuss your real estate needs.  Please feel free to contact me today to get started!
Mickie Cioccia
Mickie C and Company Realty
Check Out Our Website
See Katy and Houston, TX Homes for Sale 
Become Our Facebook Fan
Follow Us on Twitter
Connect With Mickie on LinkedIn
Contact Our Team
Share on Facebook