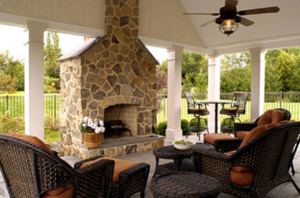 Spring is a perfect time to be outdoors in Katy TX!  The warmer temperatures during the day and moderate evenings beckon homeowners in Katy to spend time enjoying the scenery.
In fact, since the nation is celebrating Earth Day today, you may be thinking of ways to make the outdoors an extension of your living space.
As a Katy TX Real Estate agent, my goal is to provide a wide variety of information and advice so that those who've bought a home in Katy TX can enjoy their home and the Katy TX lifestyle to the fullest!
If you're looking for ways to highlight your outdoor living space this spring and create a welcoming environment for family and friends; check out these five simple tips!
1. Shield the view– If you find your backyard backs up to a neighbors without any privacy, or the homes on your street are set so that you can easily see multiple neighbors' yards; consider shielding the view.  Sometimes the most un-relaxing thing is knowing others can see every move you make. Add shrubs or dwarf trees to, not only add green to your outdoor space, but to give yourself the atmosphere of a true respite.
2. Create a focal point– One of the main tips for an outdoor space is having a focal point.  Whether its a water feature, an outdoor fireplace, or an art installation; this can bring the space together and also act as a conversation piece.
3. Offer a variety of seating options– Benches, stools, couches and chairs will offer enough seating for everyone!  Kids will feel included in having their own seating and multiple seating allows you to easily move things around for your needs.
4. Put everything in its' place– Organize any outdoor tools such as hoses, watering cans, brooms or garden tools in such a way that is visually appealing and keeps your outdoor area from feeling cluttered.  It will also ensure you know exactly where everything is!
5. Create outdoor "rooms"– If you have the space, be sure to have separate seating arrangements to make your outdoor area feel like a true living space!  Break up the dining area from the lounge space and the kids area, and you'll give off the feeling of a more spacious area!
I hope these tips provide just the inspiration needed to take your outdoor living space to the next level!  If you're new to Katy TX, you'll love this season and will see why its' one of Katy TX residents' favorite times of year.
If you don't yet live in Katy TX, but have been considering relocating to the area; please let me know!  I would love to hear more about what you're looking for in a home in Katy and provide you with insight into the current Katy TX Real Estate market!
There's a wide variety of beautiful homes currently available in Katy TX, and I would be happy to show them to you.  Contact me today to get started!
Mickie Cioccia
Mickie C and Company Realty
Check Out Our Website
See Katy and Houston, TX Homes for Sale 
Become Our Facebook Fan
Follow Us on Twitter
Connect With Mickie on LinkedIn
Contact Our Team
Share on Facebook