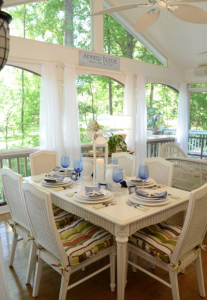 As a Katy TX Real Estate agent, the spring can tend to be one of my favorite times of the year as new homes are coming on the Katy TX Real Estate market each week.  Interested buyers are out looking at multiple homes and sellers feel the more vibrant market is an ideal time to get their Katy TX home sold.
It can, however, feel a little overwhelming to sellers knowing that there are a number of other homes currently on the Katy TX Real Estate market.  So, what can you do to help your home stand out from the competition?
The first step is helping your Katy TX home show in the best way possible!  First impressions of those visiting your home and creating a great environment can leave the lasting impression that get the sale!  Here are six simple tips for ensuring a great open house for your Katy TX home.
1. Make it Generic– It's great to make your home personal; however your pictures, children's art or your "to do" list on the refrigerator can be a large distraction to potential buyers.  They need to be able to envision themselves in your home, so putting away those personal items will help buyers picture their life in your Katy TX home.
2. Clear Counters– Look at your kitchen or bathroom counters from a outsiders viewpoint.  Do you have too many appliances cluttering your kitchen counter?  Clearing this space will make there appear to be more room for cooking or their own storage.  If your bathroom counters are filled with perfumes, toothbrush holders, etc… take time to put them in cabinets or drawers so buyers can see the actual size of the space.
3. Set the Table– This may not seem necessary, but having your dining room table set with nice place settings add a touch of class and can help the Katy TX buyer envision hosting their own dinner parties.

4. First Impressions– Believe it or not, a nice doormat or attractive porch can really set the tone for the entire open house.  If there's an old doormat, chipped paint or nothing special about the entrance to your home, buyers may feel that you don't really care.  A welcoming setting from the start will instantly let buyers know that your home is well-maintained and that each area of your home is cared for.
5. Get to the Heart– The best way to appeal to the buyers' heart is through offering something special when they walk in the door.  Whether you bake fresh cookies, have coffee or lemonade for them on your counter, these added touches will set your home apart.  Lighting a mildly scented candle and having your home appropriately heated for the day's weather can make your home instantly feel comfortable to the buyer.
6. Don't Stick Around– While it may be tempting to want to hear what the potential buyers have to say, it can be awkward when the seller is present.  They will feel that they can't openly express their thoughts to the agent and will not feel as comfortable when looking throughout the home.  Even if you take a walk through the neighborhood, being away from the home during an open house can make all the difference.
I hope these tips are helpful as you prepare for your next open house!  If you've been considering selling your Katy TX home, but haven't yet found a Katy TX Real Estate agent; I would love the opportunity to talk with you!
I put together a custom marketing plan for each of my clients and would enjoy helping get your Katy TX home sold in a timely and efficient manner!  Please feel free to contact me today to get started!
Mickie Cioccia
Mickie C and Company Realty
Check Out Our Website
See Katy and Houston, TX Homes for Sale 
Become Our Facebook Fan
Follow Us on Twitter
Connect With Mickie on LinkedIn
Contact Our Team
Share on Facebook