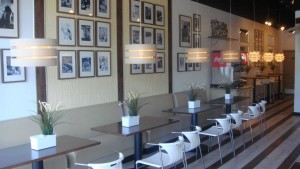 Living in Katy TX means you're a part of a vibrant, growing community that has a lot to offer!  As a Katy TX Real Estate agent, I love what I do in helping people buy or sell a home in the Katy TX area, but my goals reach far beyond the real estate market.  I want to ensure those that move to Katy or those who have found themselves living here for years, are experiencing the complete lifestyle that appeals to so many residents.
If you've visited my blog in the past, you know that I'll take time out from real estate tips and Katy TX market advice to showcase what's happening around town.  In my experience as a Katy TX Real Estate agent, the top questions that buyers have will be in regards to the town, what there is to do, the schools, and overall quality of life.  That's why I feel it's important to highlight what's happening in Katy TX, and today, I thought I would show how Katy continues to grow!
Below are a few of the new businesses that opened within the past few months, and a few that will have their grand opening soon!
Katy Ranch Crossing
Freddy's Frozen Custard and Steakburgers
24433 I-10 W., Ste. 100
Opened April 23rd
– Freddy's features classic diner food such as their double steakburger, chili bows, hot dogs and its' signature frozen custard with a variety of flavors like the signature turtle.  This is one delicious new business you won't want to miss!  Visit www.freddysusa.com to learn more!
Ritz Nails III
5664 I-10 W., Ste. 500
Opened early May
– Keep your hands and feet happy at this beautiful new salon that offers pedicures, manicures and other beauty treatments!  For more information, call 281-394-5664.
Around Town
Akashi Fusion Sushi Cuisine
9550 Spring Green Blvd, Ste. 416
Opened April 15th
– This creative fusion restaurant features the classic sushi rolls, but also has items that inspire like their Japanese lasagna.  Learn more at by visiting the Akashi Fusion Facebook page.

Lacey Oak
5708 Third St
Opened May 4th
– Located in the historic Robertson home, which was the first home in Katy to receive electricity, Lacey Oak is an elegant boutique boasting home decorations, women's accessories, handbags, a children's section and more!  Whether you're going to shop, or to peak in at this historic home; you won't be disappointed!  Please visit www.laceyoak.com for more information.
Coming Soon
World of Beer
2643 Commercial Center Blvd Ste. B390
(In LaCenterra)
Opening this June
– World of Beer will offer 500 choices of bottle beer and 50 on tap. It will also serve as a live music and entertainment venue.  To learn more visit, www.wobusa.com.
Macaroni House
6501 S. Fry Rd, Ste. 300
Opening this June
– The Macaroni House will be a favorite for those who love macaroni!  This restaurant will feature American cuisine, but its highlight will be the variety of macaroni dishes offered!  Check out the Macaroni House on their Facebook page.

I hope you get the opportunity to explore some of these new local businesses!  You'll not only discover great new places to eat or shop, but you'll be supporting Katy TX businesses in the process!
As always, if you have any other questions about what it's like to live in Katy TX, or you're considering buying or selling a Katy TX home; please contact me!  I'm here to answer any questions you have and would enjoy showing you some of the beautiful homes currently available in Katy TX.
I look forward to hearing from you!
Mickie Cioccia
Mickie C and Company Realty
Check Out Our Website
See Katy and Houston, TX Homes for Sale 
Become Our Facebook Fan
Follow Us on Twitter
Connect With Mickie on LinkedIn
Contact Our Team
Share on Facebook