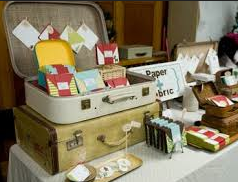 In a city that's constantly growing, you can count on a wide variety of events and attractions to keep you engaged within the community.  Luckily for us who live in Katy, this is one city that's on the move!  Whether you enjoy spending time outdoors in our scenic setting, or you prefer attending the latest event; you'll find there's always something to do in Katy TX!
As a Katy TX Real Estate agent, I enjoy letting locals and those visiting the area know what's happening around our great city!  For potential buyers, it's a great way for them to get a feel for what Katy has to offer and showcases the great lifestyle that's available.
Whether you're new to Katy TX, have lived here for years, or will be visiting us this weekend; here are a few events you won't want to miss!
InHouston-Katy Professional Premier Business Network Mixer
Vida Southwestern Grill
21810 Kingsland Blvd, Katy
Tuesday, September 10 from 3-7pm
– If you're interested in connecting with other business professionals in the Katy area, this is an event you'll want to attend!  This is a free networking event for business professional mixing, social networking, building business relationships, and net weaving. Door prizes and name badge sponsorships are welcome. Bring plenty of business cards to pass out! Complimentary chips and salsa will be provided. For more information about this event, please visit the InHouston-Katy Professional Premier Business Network Mixer Facebook page. 

Upcoming Events at Maud Marks Library
1815 Westgreen Blvd, Katy
September 11
DIY Crafts– 2pm
– Join in the fun this Wednesday for this free class on basket weaving!  If this is something you've always been interested in, or you're looking for something to do with friends; don't miss this opportunity to create beautiful baskets from twine and other materials!  This class is free and open tot he adult public.  To learn more, please call 281-492-8592.
Afternoon Art– 4:30pm
– Children ages 6 to 11 are invited to create great art on Wednesday at the library!  Glue, scissors, markers, paper and much more will be provided to allow children to create whatever is in their imagination.  There isn't any registration required for this free class, but if you have any further questions, please contact the library at 281-492-8592.
September 12
The Afternoon Book Club– 1pm
– If you're an avid reader, or enjoy good discussions, you'll love the Afternoon Book Club!  The book to be discussed this Thursday is The Time Keeper by Mitch Albom. The book club is free and open to the public. Call 281-492-8592 for more information!
Fulshear Art Walk
Downtown Fulshear
Saturday, September 14th from 11am to 6pm
– If you're an art lover, or are looking for something unique and fun to do this Saturday, you'll want to venture over to nearby Fulshear for their Art Walk!  Local businesses will be open all day and will feature local artists and interactive demonstrations.  Enjoy the Fulshear Art Walk as participating Fulshear businesses feature local artists and interactive demonstrations. Arts Fulshear prides itself in providing the community with a full, rich experience in art and cultural events. Visit the Arts Fulshear website for more information. 

The Real Craftwives of Katy Expo
Firethorne Neighborhood Community Clubhouse
28800 S. Firethorne Rd, Katy
Saturday, September 14th from 10am to 3pm

– Calling all craft enthusiasts!  Don't miss out on this free event that's open to the public this Saturday! The Real Craftwives of Katy Expo will feature over 45 local vendors.  There will be many booths selling hand crafted items such as clothing, jewelry, candles, home décor, and many different children's items. There will also be booths featuring local photographers, bakeries, artists, and much more! There is something for everyone at this premier event! Food trucks, ice cream trucks, and a bounce house will also be available. Visit The Real Craftwives of Katy Facebook page for a list of vendors and to stay up-to-date on the expo.
There's a lot taking place in Katy  TX this week, and I hope you're able to take part in the fun!
If you'd like to learn more about living in Katy TX or are interested in seeing some of the homes currently on the Katy TX Real Estate market; please feel free to contact me today!
Mickie Cioccia
Mickie C and Company Realty
Check Out Our Website
See Katy and Houston, TX Homes for Sale
Become Our Facebook Fan
Follow Us On Twitter
Connect With Mickie on LinkedIn
Contact Our Team
Share on Facebook