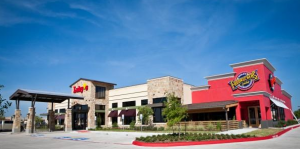 Katy TX is constantly on the move and expanding with businesses and new homes all the time!  If you're searching for a place to live that has it all, Katy TX is a great choice.  In working as a Katy TX Real Estate agent, I've had the privilege of seeing Katy blossom into a vibrant city and one that buyers are anxious to call "home."
Residents of Katy are also enthusiastic about the continual growth of their city and the new restaurants, shops, expanding roads and ways to get involved in their community.
Speaking of which, have you been wondering what's being built on Cinco Ranch Boulevard?  It's been announced that in December of this year, they'll be opening a Fuddrucker's-Luby's restaurant!
Now, you may be wondering why these two are being combined into one restaurant space, but this growing trend is taking off and customers are loving this combination!  The idea is that family's will no longer have to choose between the two dining destinations.  It's a win-win!  Parents can enjoy their finer dining dishes from Luby's and kids can feast on delicious Fuddruckers' burgers all on the same patio!  Or, some are opting to dine at Luby's and head over to Fuddrucker's for their mouth-watering shakes for dessert!
Luby's owns and operates 93 cafeterias, mostly in Texas, with 33 in the Houston area. The company has 58 company-operated Fuddruckers restaurants and 125 franchised units nationally, including 15 in the local area.  If you're looking to support local businesses and enjoy dining at either of these restaurants, you'll enjoy this new development!
Of course, there are a number of other exciting changes and additions taking place throughout Katy, and my goal is to give you an idea of what's happening throughout our great city.
If you don't currently live in Katy TX, but have been considering moving to the area, I would love the opportunity to talk with you more!  I've enjoyed helping buyers navigate the Katy TX Real Estate market and have helped many find the home of their dreams in Katy.
Contact me today to get started with your Katy TX home search!  I look forward to hearing from you!
Mickie Cioccia
Mickie C and Company Realty
Check Out Our Website
See Katy and Houston, TX Homes for Sale
Become Our Facebook Fan
Follow Us On Twitter
Connect With Mickie on LinkedIn
Contact Our Team
Share on Facebook