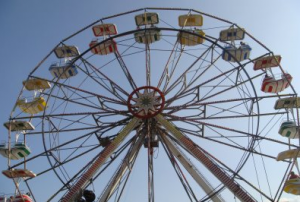 Residents of Katy TX enjoy living in a community that has so much to offer!  From great schools and growing businesses to fantastic restaurants, parks, and events throughout the year; there's always something to do in Katy TX.
In my work as a Katy TX Real Estate agent, I love being able to let potential buyers know the ins and outs of what makes Katy TX such a great place to call "home."  Katy continues to grow and expand, and continues to provide residents with a great lifestyle.
If you're searching for a way to get involved in the Katy community this weekend, there's an annual event you won't want to miss!  Whether you've lived in Katy for a number of years, or you're just getting settled in to your new home, the 33rd Annual Katy Rice Harvest Festival is a great way to interact with your city!
33rd Annual Katy Rice Harvest Festival
Historic Downtown Katy
Saturday, October 12th through Sunday, October 13th
– Don't miss the annual Katy Rice Harvest Festival this weekend!  This two day festival is filled with fun for the whole family and is a highlight for the Katy community each year.  Throughout the weekend you'll find carnival rides, live music, games, local food vendors, over 300 craft booths and more!  The highlight of the weekend, however, falls on Saturday with the annual Parade which will begin at 10am.  Admission is $8 per ticket, but free for those ages ten and under!  For more information on the festival, please visit the Katy Rice Harvest Festival website.

Gather your friends and family and take part in this fun Katy TX tradition!
If you've been considering moving to Katy TX, but have questions about the area or the Katy TX Real Estate market; I would be happy to talk with you!  The festival would also be a great event to attend in order to get a better feel of the Katy lifestyle.
Please don't hesitate to contact me anytime to ask questions, learn more about Katy TX and even see some of the homes currently on the Katy TX Real Estate market.
I hope to hear from you soon!
Mickie Cioccia
Mickie C and Company Realty
Check Out Our Website
See Katy and Houston, TX Homes for Sale
Become Our Facebook Fan
Follow Us On Twitter
Connect With Mickie on LinkedIn
Contact Our Team
Share on Facebook