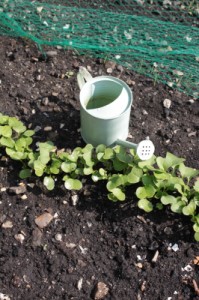 Spring is here! Have you considered starting a vegetable garden outside your Katy, Texas home? This can be a fun thing and a great learning experience for families with young kids, and also for those who are empty nesters, and have always considered planting a garden but have never before had the time. There are several things to keep in mind when getting ready to plant a vegetable garden.
Consider the space you have available. You don't have to have a large space available to start a garden, but the amount of space you have will determine how many vegetables and what kinds to plant. For those with a very small yard or no yard, planting in containers can be quite effective. A 10×10 foot vegetable garden may be a great size to start with.
Finding the right spot for your garden. Sunshine is everything when it comes to having a successful garden. You need to select a spot that gets 6-8 hours of direct sunlight a day, if possible. If your plants don't get enough sunlight, they may be suspect to attack by more insects, and likely won't bear as many vegetables. Plants also do better when they are close to a water source, though you will likely need to water your garden too. Having your garden close to your house is typically most convenient.
Start small in the types of vegetables you'll plant. It is easy to get excited about fresh summer veggies coming from a home grown garden but be careful not to select too many types to plant in your first year. It is best to start small. You don't want to get overwhelmed nor waste food.
If you're looking to upsize your Katy, Texas home or find a home with a larger backyard for a garden, spring is a great time to house shop. I'm a seasoned Katy real estate agent, and happy to meet with you to gain a better understanding of your housing needs. Give me a call today!
Mickie Cioccia
Mickie C and Company Realty
Check Out Our Website
See Katy and Houston, TX Homes for Sale
Become Our Facebook Fan
Follow Us on Twitter
Connect With Mickie on LinkedIn
Contact Our Team
Share on Facebook