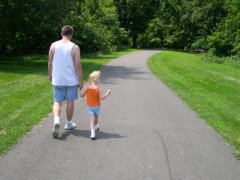 If you're an outdoor enthusiast, good news! You've got plenty of outdoor trails around Katy to enjoy for biking, running or walking. Whether you prefer paved or unpaved, in town or off the beaten path, there is a trail to suit your interests.
As your Katy real estate agent, I'd like to share some of my favorite trails with you! Choose one that sounds interesting and head out for some physical activity and great scenery!
Cullen Park – The most popular trail within the park is a four-mile paved trail that begins at the picnic area near the entrance. Along the way, you will see oak trees, wildflowers and wetlands. The park is also home to five miles of unpaved trails, which ride along Mayde Creek.
Rice Park Trail – Rick Rice Park is home to this trail, which is a one-mile trail great for walking or running. This trail connects to the Mason Creek Trail as well, with a bridge, which provides another 20 miles of trails running from Mason Creek to the George Bush Park trail system. You've got lots of options from here!
George Bush Park – This park supplies over 11 miles of paved hiking and biking trails. They run from the Highland Knolls entrance to the Terry Hershey Park trail system. There is lots of parking available at the Nottingham Country Greenbelt. You can also connect to the Mason Creek Trail from here.
Willow Fork Drainage – Thirty miles of trails await you in the Cinco Ranch area. You can enter the trails from Cinco Ranch High School on weekends, or enter through the trail that is located behind the Katy YMCA. More trails run along Westheimer Parkway and Cinco Ranch Boulevard.
Cinco Ranch Lakes – This paved trail is a casual two-mile trail that passes by two lakes. It's shaded at times too, which makes for a cooler walk. It's also wide enough for biking or walking groups. If you bring the kids, there is a park that attaches to the lakes.
Brazos Bend State Park – There are numerous trails along the Brazos River inside this state park, where you can enjoy a natural setting and lots of wildlife. More than 300 species of birds have been recorded inside the park! Trails range from half a mile to four miles and are considered easy enough for the whole family. They make their way through lakes and swampy terrain.
Terry Hershey Park – This is a great option for runners and bikers who don't want to share a path with one another! Dirt trails run along the paved walkways, giving bikers the opportunity to steer away from runner and walkers. The trails are located along the Buffalo Bayou from Highway 6 to Sam Houston Tollway. They provide great views of nature, and adventurous off-road bikers can enjoy the "Anthills" while practicing dirt jumps.
Enjoy exploring Katy while walking, jogging, running or biking along one of Katy's many trails! When ready to achieve your homebuyer or home seller goals in the Katy real estate market, give me a call, your Katy real estate agent! I'd love to help you out!
Mickie Cioccia
Mickie C and Company Realty
Check Out Our Website
See Katy and Houston, TX Homes for Sale 
Become Our Facebook Fan
Follow Us on Twitter
Connect With Mickie on LinkedIn
Contact Our Team
Share on Facebook