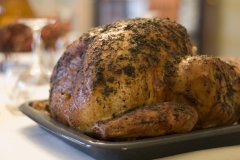 As we gear up for the Thanksgiving holiday this month in Katy, followed shortly by the winter holidays, you can expect lots of holiday events to start appearing on the calendar! As your Katy real estate agent, I am here to fill you in on some of the Thanksgiving events coming up this month.
Cookout Demonstration
Are you hosting Thanksgiving at your Katy home later this month? Wish you knew how to cook traditional Thanksgiving dishes that were a bit tastier? Have you ever considered cooking this meal on the grill? Sign up for the Cookout Demonstration on Nov. 14 from 11 a.m. to 4 p.m. at Westside Grill & Fireplace.
Westside Grill will be partnering with a local exotic meat market to provide cooking demonstrations on different kinds of grills that they sell at their shop. Learn the skills needed to grill your Thanksgiving dishes, and then enjoy eating them! There will also be other vendors there to promote their products and answer cooking questions for attendees.
Family Night – Thankfulness
Chik-fil-A is hosting Family Night – Thankfulness Nov. 16 through Nov. 18, keeping in theme with Thanksgiving. From 5:30 to 7:30 each night, your family can enjoy making turkey crafts to help show what you are thankful for this year. Kids can also enjoy complimentary balloon animals and face painting.
This event will be located at the Katy Green location on Monday, the Cinco Ranch location on Tuesday and the Mason Road location on Wednesday.
Holiday Shopping
If you're one to skip over Thanksgiving festivities and head right in Christmas, mark your calendar for upcoming holiday shopping events. On Nov. 19, from 3 to 9 p.m., all ladies are welcomed to the Historic Downtown Katy Holiday Ladies' Night Out! Enjoy shopping local while taking advantage of holiday sales and delicious refreshments.
Then, from Nov. 20 through Nov. 22, Home for the Holidays Gift Market returns to Katy, which is one of the largest gift markets in Texas. It features more than 200 unique vendors! Admission is $6 and parking is free at The Merrell Center. You're sure to get much of your holiday shopping done at these events.
Turkey Dash
Sign up for the Katy Family YMCA Turkey Dash on Thursday, Nov. 26, and then get out and start practicing! Whether you're a veteran runner, or new to it, there is an activity for you. Sign up for the 10k, 5k or 1 Mile Walk/Run. There is also a 1 Mile Kids Race so the whole family can participate. After the races, enjoy the post-race party complete with food, giveaways, a photo booth and a kids fun zone. It's fun the whole community!
If you love to dress up in costume, it's strongly encouraged. There will be a solo and group costume contest in the categories "Best Thanksgiving Theme" and "Most Unique Costume."
All proceeds go toward the YMCA's Annual Campaign that helps provide scholarships to an array of children's programs. So you're helping a great cause, getting involved in the community and burning calories before your big Thanksgiving feast!
Enjoy Thanksgiving and all of the holiday-related events leading up to it. When ready to buy a Katy home, or to sell to a Katy home, contact me. As your Katy real estate agent, I never stop helping achieve real estate goals, no matter what time of year it is!
Mickie Cioccia
Mickie C and Company Realty
Check Out Our Website
See Katy and Houston, TX Homes for Sale 
Become Our Facebook Fan
Follow Us on Twitter
Connect With Mickie on LinkedIn
Contact Our Team
Share on Facebook