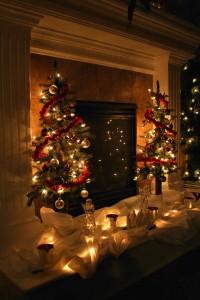 After Thanksgiving is over, no time is wasted on winter holiday happenings starting up in Katy! As your Katy real estate agent, I want to keep you updated on all of the festive events taking place around town, so you don't miss a beat of holiday fun. Mark your calendars for these upcoming events:
If you're braving the Black Friday crowds this Friday, drop the kids off at the Little Gym of Katy from 9 a.m. to 1 p.m. Member registration is $34, and non-member registration is $35. Children must be at least three years old and bathroom independent.
Stop into Tradition Bank on Thursday, Dec. 3, from 5:30 to 8 p.m. for the chance to get into the holiday spirit with others in the community! Enjoy hors d'oeuvres, beverages, prizes and holiday fun for those of all ages. It's free to attend.
Stop by Cinco Ranch High School on Friday, Dec. 4 for Snowball Social! Beginning at 7:30 p.m., the Cinco Ranch Bravo Choir will perform holiday classics that you love, like Chestnuts Roasting and Santa Claus is Coming to Town. Tickets cost $5 and include dessert and a beverage.
An Old Fashioned Christmas will take place on Saturday, Dec. 5, beginning at 10 a.m. There will be crafts and activities for kids, entertainment from local schools, performances, the Katy Tiger mascot, and photos with Santa for $5. The official lighting of the Christmas tree will occur at 6 p.m.
Head to Taylor High School on Sunday, Dec. 6 for Photos with Santa! From 2 to 5 p.m., anyone can stop in to share their wish list with Santa and get a photo. Money raised will go to Project Grad.
Take a break from holiday shopping and stress by running in the Gingerbread Jog 5K on Saturday, Dec. 12. Join the 5K, the kids' one-mile run or the one-mile family run, but run as fast as you can to catch the gingerbread man! Proceeds support young women in need and children during the holiday season.
Connolly Dance Arts will hold its annual Nutcracker performance at Morton Ranch High School's Performing Arts Center on Sunday, Dec. 13, at 3 p.m. General admission tickets are only $10, or priority seats are $16. Watch as this classic comes to life right here in Katy!
On Dec. 14 or Dec. 17, stop into Katy Budget Books for their Polar Express Pajama Party! From 6:30 to 7:30 p.m. each night, you can enjoy a reading of the "The Polar Express" while in your pajamas! They'll also have treats and swag for the kids.
Katy, TX sure isn't short of holiday events! For details and a list of all the holiday events taking place around Katy, check out the Katy Magazine calendar of events.
Enjoy the holiday season here in Katy, and when ready to achieve your goals in the Katy real estate market, contact me, your Katy real estate agent! The market doesn't stop for the holidays, so neither do I.
Happy Thanksgiving!
Mickie Cioccia
Mickie C and Company Realty
Check Out Our Website
See Katy and Houston, TX Homes for Sale 
Become Our Facebook Fan
Follow Us on Twitter
Connect With Mickie on LinkedIn
Contact Our Team
Share on Facebook