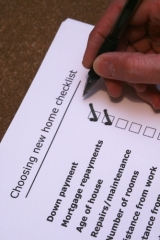 Do you want to buy a home in Katy? As a Katy real estate agent, I can't blame you! In a recent poll of Americans on the move, the majority said they were moving to be near better climate or weather. Katy is beautiful year-round, so who wouldn't want to live here?!
To help you prepare for the home-buying process, Forbes recently shared a list of things you need to know about buying a home. Here are some of my favorites:
1.  Use a real estate agent! This is the most important, because it make the rest of the process run smoother and calmer for you. Keep in mind that the agent representing the seller won't protect your interests, and they will pocket both sides of the commission. So you're not saving by not using an agent, and using an agent keeps your interests secure and makes the whole process run so much smoother!
2.  Consider the contracts. There are lots of papers to sign when buying a Katy home, and they look like standard contracts with no room for negotiation, but that isn't true! They are meant to be negotiated, and again, by working with a knowledgeable Katy real estate agent, you will have someone behind your back to make sure that everything is up to snuff with your wishes and timelines.
3.  Plan for the future. You want to move into a Katy home that is perfect for your life now, but you also want it to be perfect for your life in the future. After all, you will most likely be living in that location for many years, as it can take five to seven years to pay down any real equity. Think about the location you want to live in, how long you'll stay at your current job, if you plan on having kids and so on.
4.  Look beyond paint. It's easy to choose a home based on its cosmetic look, but you also have to consider the safety of the home, and repair and maintenance costs down the road. This is why an inspection is so important. Also, if you'd want to upgrade a room, say a kitchen or bath, factor in those costs when determining whether you can afford a particular Katy home.
5.  Buy what you can afford. Don't just listen to what a mortgage company tells you that you can afford. Think about your finances, your expenses, your future plans, and what could change your financial state in the future. It's wise to spend no more than a third, or even 28 percent of your gross income, on housing costs. This includes insurance and taxes too, not just mortgage payments.
Check out the Forbes article for more things to know before buying a Katy home. Ready to buy? Have questions? Contact me, your Katy real estate agent! I am here to help you every step of the way!
Mickie Cioccia
Mickie C and Company Realty
Check Out Our Website
See Katy and Houston, TX Homes for Sale 
Become Our Facebook Fan
Follow Us on Twitter
Connect With Mickie on LinkedIn
Contact Our Team
Share on Facebook