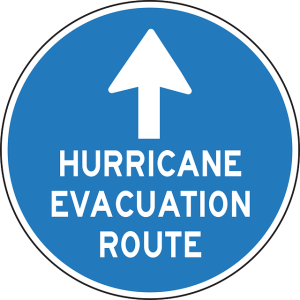 There are so many perks to living in Katy, TX. We have gorgeous weather, beautiful homes, friendly people, booming local businesses, fun community events and so much more. One of the few downsides is that we have to prepare for hurricane season, just like anyone who is fortunate enough to live near an ocean or waterway. As your Katy real estate agent, I'd like to offer you some tips to prepare!
Hurricane season is June through November here in the Katy area. The city of Houston provides tips and advice for anyone in this area that needs help preparing. Better to be safe than sorry!
1.  Find out what your floodplain is. The Houston/Katy area has five major flooplain scenarios, depending on how close you are to major creeks, bayous or other waterways. To find out what floodplain affects you, click here.
2.  Know your evacuation zone. To avoid crazy traffic issues for an evacuation, there is now a zip code zone system set up for Katy/ Houston residents. This allows for gradual and organized evacuations. Know your evacuation zone by clicking here.
3.  Avoid floodwater. If your Katy neighborhood gets flooded, remember to make sure your children never play in the floodwater, as it may contain chemicals, waste, rodents and more, along with swift moving currents and hidden manholes. It may also be electrically charged, so everyone should avoid it!
4.  Plan ahead. Plan with your family where you will evacuate if need be. Plan for your pets too, as some shelters do not accept pets. Know and review your evacuation routes. Never drive through high water. Create a family communication plan. Prepare a disaster kit and place in portable container.
After you've completed those important steps, here's how to prepare your Katy home for hurricane season:
Always keep the trees and shrubs around your Katy home well-trimmed.
Install permanent storm shutters on your windows, or use marine plywood cut to fit. Tape just doesn't cut it!
Install straps or clips to securely fasten your roof to the frame structure, to help prevent roof damage.
If high winds arrive, place patio furniture, plants and other outdoor objects inside or in a garage. This is especially important for apartment or high rise residents with balconies.
Move computers and other electronics away from windows. If threat of hurricane arrives, take electronics with you, or place them as high up as possible.
Hopefully this information is helpful and will give you peace of mind throughout hurricane season. Don't forget, this is only precautionary, because the better prepared you are, the more smoothly the evacuation and preparation process will go if need be.
Summer is a beautiful time to live in Katy, TX, with so many events taking place around the area. When ready to relocate to Katy, or when ready to buy or sell in the Katy real estate market, contact me! I am your Katy real estate agent, here and ready to help you accomplish your real estate goals.
Mickie Cioccia
Mickie C and Company Realty
Check Out Our Website
See Katy and Houston, TX Homes for Sale 
Become Our Facebook Fan
Follow Us on Twitter
Connect With Mickie on LinkedIn
Contact Our Team
Share on Facebook