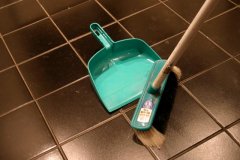 Are you ready to sell your Katy home this fall? As a Katy home seller, you will need to prepare your home for a sale. This means you need to declutter, depersonalize, deep clean and stage your home to sell. As your Katy real estate agent, I can help you through each of these processes if need be!
Once your home is clean, staged and ready to go, you will need to maintain that cleanliness for weeks, or months, for showings and open houses. As a homeowner, I'm sure you can guess that it's easier said than done! That is especially true if you have kids or pets, or just a very busy schedule.
To help you out, I'm going to share tips on what you can focus on when you have little time to clean and prepare your Katy home for a showing. Do you only have two hours? One hour? Half an hour? You can still make your home look presentable! Just follow these tips.
If you have a showing in only half an hour, here is what you can do with your limited time:
Tidy up common areas, such as folding throw blankets, fluffing pillows, stacking magazines and throwing loose papers in a drawer. Have a place to store clutter ahead of time, so you can throw it in there momentarily!
Wipe down sinks and countertops in the kitchen and in bathrooms.
Move dishes into the dishwasher.
Empty garbage bins and take out the trash.
Make the beds.
Now, if you have an hour to clean your house, do the above list, and add these tasks to it:
Vacuum the carpets and sweep the floors.
Clean the toilets and tidy up the bathrooms in any other way that you can.
Clear and dust all surfaces.
If you notice any odors in the home, consider lighting a scented candle.
If you have two hours to clean your house, do all of the above tasks, and add these tasks:
Mop the floors and wipe down the baseboards.
Clean the bathtub and shower.
Clean out the fridge and microwave.
Tidy the entryway closet and bedroom closets.
Wipe down all of the mirrors.
These tips came from a My Domaine blog post and are a great way to keep track of the cleaning tasks that need to be completed before a home showing! Now, if one area of your house needs more work than another, by all means, switch up the order of importance of these tasks. Create your own task lists with the amount of time you have. Just have a plan in order, so that when it comes time to clean and then head out of your home, you're ready.
Keep in mind that these tips work great when you're expecting company too! As a Katy homeowner, it's always a good idea to have a house-cleaning plan in the works.
Ready to sell your Katy home? Contact me, your Katy real estate agent, and we can get you started with the home-selling process this fall!
Mickie Cioccia
Mickie C and Company Realty
Check Out Our Website
See Katy and Houston, TX Homes for Sale 
Become Our Facebook Fan
Follow Us on Twitter
Connect With Mickie on LinkedIn
Contact Our Team
Share on Facebook