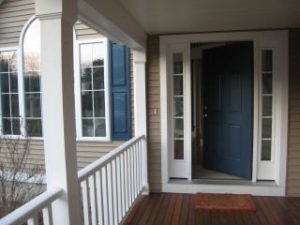 As a Katy homeowner, do you have home improvement plans for the New Year? Do you want to upgrade your home, but aren't sure where to start? As your Katy real estate agent, I would like to offer you some suggestions!
When you go to sell your Katy home, you want to impress as many potential buyers as you can. Therefore, if your home has certain features that Realtor.com said drag down a home's value, you might want to consider updating them first.
Match your paint colors. This is true for the exterior and interior. Most buyers don't want to buy the only pink house in town, especially if all the others are neutral colors, so take note at how your home blends into the neighborhood. Inside, paint over a bright orange with a neutral color, so buyers can imagine their own design ideas.
Have an inviting front door. When a buyer or a guest comes to visit your Katy home, the front door is one of the first features they'll notice. An upgraded front door is also the best upgrade for return on investment, so don't feel bad about investing your money into an updated, sturdier option. Make sure the doorbell works while you're at it.
Update windows and screens. Buyers and guests will notice screens that look more like cat scratchers. You might be able to get away with using screen repair patches to fill in the holes, rather than replacing the whole set. Check your window frames and windows too, and make sure they all slide properly and are insulating well.
Work on your landscaping. Since the exterior of your Katy home is the first thing buyers and guests see, you want them to notice quality landscaping rather than a bare yard, or landscaping that has been forgotten. Be sure to trim your trees and cut your grass. Having some fresh flowers in pots outside your front door is a nice bonus.
Take note of smells. We get used to the smell of our own Katy homes, so it'd be a good idea to ask a trusted friend, family member, neighbor or Katy real estate agent if they notice any weird smells in your house. If they do, work toward finding the culprit of the odor and cleaning it in a way that will remove the smell for good.
Other features that Realtor.com mentioned include eerie dripping noises, poor lighting, squeaky doors/hinges and an outdated kitchen. As a Katy homeowner, it's up to you to determine which of these features you have, and which need to be upgraded most!
Have questions? Need a second opinion? Ready to sell your Katy home? I am a Katy real estate agent, standing by, ready to help you with all of your real estate needs in the coming year. Don't hesitate to contact me!
I wish you all a wonderful holiday and a happy new year!
Mickie Cioccia
Mickie C and Company Realty
Check Out Our Website
See Katy and Houston, TX Homes for Sale 
Become Our Facebook Fan
Follow Us on Twitter
Connect With Mickie on LinkedIn
Contact Our Team
Share on Facebook