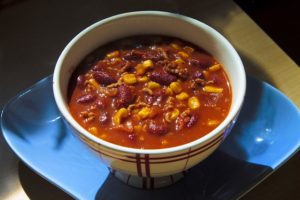 Most people are happy that February is the shortest month of the year, as it leads one month closer to spring and summer. However, when you live in Katy, TX, you don't have to count down the days of winter! There are still tons of fun events and activities taking place all over the Katy community. As your Katy real estate agent, allow me to fill you in.
1.  Get out of the house and unwind at the Seven Lakes High Performing Arts Center! They are presenting Big Fish, a play about a son trying to determine fact from fiction in his dying father's life. Performances take place Feb. 2 and 3 at 7 p.m. and Feb. 4 at 2 p.m.
2.  If you love chili, you won't want to miss Chili Bowl Katy on Feb. 4. This runs from 9 a.m. until noon as a tailgating event at Rhodes Stadium, and it will include other activities as well, such as live entertainment, food vendors, autograph sessions, celebrity chefs and a kid zone.
3.  After the tailgate, the Celebrity Flag Football Game will take place a Rhodes Stadium on Feb. 4. The game will run from 1 to 3 p.m. Doug Flutie, Michael Irvin and other NFL athletes and celebrities will perform in the game. Tickets are only $20! Enjoy an after party from 4 to 8 p.m. at No Label Brewery.
4.  Register now for the Katy Half Marathon, which takes place on Feb. 11 at Katy Mills Mall! Whether you love to run, jog or walk, and whether you want to do the whole half marathon distance, a 5K or a 1K, there is an option for you. There are Katy teams you can join for great causes, or start your own team!
5.  Celebrate Valentine's Day early at the Third Sweetheart Dinner and Auction at Katy Elks Lodge on Feb. 9. Enjoy a homemade dinner and live and silent auctions. Tickets cost $25 and proceeds support special needs children in the local Katy community.
6.  Head to Katy High School on Feb. 11, from 10 a.m. to 5 p.m., or on Feb. 12, from 12 to 5 p.m., for the Heart of Katy Craft Show. Admission is free, and you can browse and shop among popular vendors. Buy yourself a Valentine's Day gift! Proceeds support Katy Bengal Brigade and Cheerleaders.
7.  Find a babysitter and spend Valentine's Day dining out at Agave Rio Restaurant, where you can savor a three-course, prix-fixe romantic dinner with steak and lobster with your sweetheart. Or, spend the holiday with your family at Preschool Playhouse, where you'll make a "Warm Hug" hot chocolate kit.
Enjoy your month and your holiday in Katy! When ready to achieve your home-buying or home-selling goals in the Katy real estate market, contact me. I am your Katy real estate agent, standing by to help you out!
Mickie Cioccia
Mickie C and Company Realty
Check Out Our Website
See Katy and Houston, TX Homes for Sale 
Become Our Facebook Fan
Follow Us on Twitter
Connect With Mickie on LinkedIn
Contact Our Team
Share on Facebook