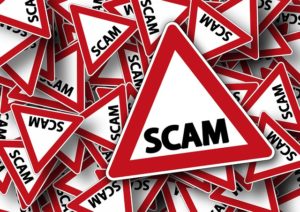 If you are gearing up to buy a Katy home, you know that this is one of the biggest investments you'll ever make, if not the biggest! When so much money is involved, it's no surprise that shady characters may try to take advantage of you. As your Katy real estate agent, I want you to be aware of common real estate scams ahead of time, so that you don't fall for them while going through the home-buying process!
Here are four common scams that Realtor.com recently warned against, and tactics on how to outwit them:
Scam #1: You transfer funds to a fraudster.
Once you choose a Katy home and it's time to make an offer, you may think you're sending a large sum of money to one person, but it ends up in entirely different hands. This is an example of cybercrime, and real estate exchanges are just one of the ways this happens.
Avoid it: Only respond to verbal requests for a wire transfer, either directly from your trusted Katy real estate agent, or directly from the seller or seller's agent whom you've met in person or done research on. Don't ever send money via an email request.
Scam #2: You're renting a home that doesn't exist.
You think you scored a great deal on a beautiful house that you saw online, but really, the scammer borrows the address and photos from another listing and creates a bogus home-for-rent ad online. You are then asked to send a deposit and rental payment via email or even a phone call, typically to a P.O box that may even be overseas.
Avoid it: Start with a simple Google search of the property address, or go to the county website, to see if it's a real listing that is listed elsewhere as well. Visit the county clerk's office to make sure it's not a foreclosed home that you will be kicked out of. Feel free to stop by the house and ask neighbors about it as well. Above all, never send money overseas without doing ample homework!
Scam #3: The moving company holds your items hostage.
If you choose the cheapest moving company that catches your eye, without doing research, you might lose all of your belongings period, or they may be held hostage until you pay the scammers way more than what was originally quoted.
Avoid it: This is a common one, so do some research to make sure your mover is registered and insured, and that you have a written estimate. Have a representative from the company come meet you in person ahead of time and draw up an estimate. If moving locally, you can use our Katy moving truck! Or, hire hourly moving laborers to load and unload, so you're always in control of your stuff.
Scam #4: "I'll sell your home or buy it myself."
Sounds great, but typically, this is a tactic for less-than-scrupulous agents to win appointments. These programs come wrapped in a bundle of stipulations that most homeowners would never agree to.
Avoid it: If it sounds too good to be true, it is. You know the saying! Choose a trusted Katy real estate agent to help you sell and buy in the Katy real estate market. Don't go with someone that has the catchiest offerings. And if the terms don't meet your approval, don't sign the agreement!
For more details on these four real estate scams and how to avoid them, read the Realtor.com article in its entirety. If you have questions, contact me, your Katy real estate agent! I am here to answer your questions and concerns, and to help you with all of your home-buying and home-selling needs.
Mickie Cioccia
Mickie C and Company Realty
Check Out Our Website
See Katy and Houston, TX Homes for Sale 
Become Our Facebook Fan
Follow Us on Twitter
Connect With Mickie on LinkedIn
Contact Our Team
Share on Facebook