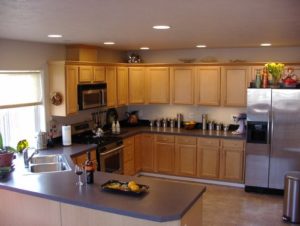 If you are in the process of preparing your Katy, TX home for a sale this summer, you've most likely heard the term staging, and you've learned what a huge difference it can make in catching the attention of potential buyers! Staging is the process of prepping your home for buyers in a way that makes them want to buy it. As a Katy real estate agent, I am here to offer you my professional advice!
Let's talk about the kitchen, as this is one of the most popular rooms in the house, and one that buyers pay close attention to. Even if your Katy home doesn't have a gourmet, glamorous kitchen, you could still make it look appealing to buyers with the right staging.
Here are a few tips to get you started:
Clear clutter. This is true for all of the rooms in your house, and it's definitely true for the kitchen! The typical homeowner stores numerous items on the counter, such as a coffee maker, blender, knife block, bowl of fruit, toaster oven, etc. Remove everything from your counters, the top of your refrigerator and cabinets, and on your refrigerator and table, and only leave one or two appliances and a pop of color, such as an aesthetic bowl of bright green apples or lemons.
Deep clean. This is true for every room of your house too, but kitchens tend to need extra attention! Don't just wipe down the counters, scrub every last inch of your kitchen! Clean the grout, faucet, drain, inside the cabinets, inside the oven, everything, until the kitchen looks as spotless as possible. Grease can be tricky to remove, so invest in some heavy-duty cleaners if need be, or research some natural DIY cleaners that are known to work.
Update lighting. Lighting your kitchen properly can make all the difference on how it appears to buyers! Let as much natural light in as you can, which not only puts your kitchen in a great light, but also shows off your windows, sliding doors and views. If you don't have under-cabinet lighting, you can add some battery-powered lights for very little money. Update the fixtures over your table or cooking area for a modern look.
Organize inside. When selling your Katy home, buyers look everywhere. This means that you should even consider staging inside your cabinets, pantry, refrigerator and freezer. As crazy as that may sound, buyers are trying to imagine their own lives there. If they see clutter inside these areas, they might determine that there isn't enough storage space in your kitchen. Show off your space!
Set the scene. Once your kitchen is looking spotless, clean and organized, you can set the scene with that bowl of apples or lemons we mentioned earlier. You could also set the table with colorful plates and napkins, or set a visually appealing vase of flowers on the table. Add plants to a windowsill. If you're really feeling festive, fill the room with the aroma of baked cookies or citrus.
For more kitchen staging tips, check out this Realtor.com article or contact me! As a Katy real estate agent, I would love to answer your questions and help guide you through the entire home-selling process in the Katy real estate market this summer.
Mickie Cioccia
Mickie C and Company Realty
Check Out Our Website
See Katy and Houston, TX Homes for Sale 
Become Our Facebook Fan
Follow Us on Twitter
Connect With Mickie on LinkedIn
Contact Our Team
Share on Facebook