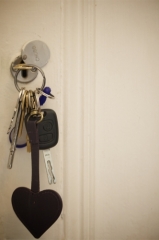 Is it just me, or does summer fly by after the Fourth of July? It's time to plan a summer trip! As your Katy real estate agent, I'd like to share some tips with you on how to protect your Katy home while you're away. Whether you're gone for a weekend, week or month, you should always prepare your home, so that it's secure and clean when you get back.
Before you leave on your vacation, here's how to prep your Katy home:
Clean – You don't want to come home to a smelly or dirty house. Ideally, you want to come home to a clean home! At the least, empty your fridge of perishable items that will go bad while you're away, empty the trash and recycle bins, wipe down counters and run garbage disposal. If you have more time, do and put away laundry, clean clutter, wash sheets and towels, make beds, etc.
Close – Make sure your Katy home is in safe condition while you're away. Unplug small appliances to save power and eliminate electrical dangers while you're away. Check smoke detectors. If you're leaving for a while, turn off your water at the main shut-off valve. Keep bathroom and closet doors ajar to prevent mold or musty smells. Do a quick maintenance check on your cooling system, roof, windows, etc.
Secure – This is what is on most homeowners' minds when it comes to traveling. You want to find your home secure when you get back! You've got options. Set up remote monitoring, either with your own wireless security camera, or through a professional monitoring service. Collect spare keys around your house, under doormats and so on. Give a pair to a trusted friend or neighbor. Hold your mail and newspapers so it's not obvious you're gone. Set up motion lighting outside. Consider investing in a new security system if you don't have one. Ask a friend or family member to water plants and check up on your home while you're away.
For more tips on how to keep your Katy home safe while away, check out this RISMedia article. What else would you recommend? Leave a comment and share!
Enjoy the rest of your summer in Katy, TX. When ready to buy a Katy home, sell your Katy home, or both, I am your Katy real estate agent, here and ready to help you out. Summer is a great season to accomplish your Katy real estate market goals! The market is hot, the kids are out of school, and many see it as a transition period. When you're ready to get started, or you have questions, contact me at any time. I'd love to help you out!
Mickie Cioccia
Mickie C and Company Realty
Check Out Our Website
See Katy and Houston, TX Homes for Sale 
Become Our Facebook Fan
Follow Us on Twitter
Connect With Mickie on LinkedIn
Contact Our Team
Share on Facebook