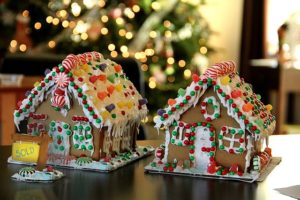 If your Katy home is currently listed, or you'd like to list it during the holiday season, contact me! As your Katy real estate agent, I am always available to help you with your home-selling and/or home-buying needs. The Katy real estate market never pauses, so why should you put your dreams on hold if you'd like to accomplish them now?
There are plenty of reasons to sell now! If you are relocating for a job, a growing family, an aging parent or anything else, you don't really have the option to wait. If you want to move while the kids are on holiday break, now is a great time to sell. If you'd like to sell and buy up, you most likely want to score a low mortgage rate, while they're low, and take advantage of year-end tax benefits.
Here are some reasons why selling during the holidays is smart:
Serious buyers are out. Casual buyers are too busy during the holidays. When you get a showing set up, you know it's because the buyer is serious.
The competition is light. Inventory is lower than usual as it is, but during the holidays, it drops even more. There's a really good chance that serious buyers will check out your house!
The process goes faster. Everyone is a little less busy this time of year. That includes agents, mortgage lenders, inspectors, appraisers, etc. Therefore, the process of selling tends to go quicker.
Now is the time to buy up. Like I mentioned, if you want to buy a bigger home after you sell, mortgage rates are low right now, but rates and prices are expected to increase. Buy now and save!
Holiday décor lights up the night. With shorter days, it's a dark time of year, but you can use casual, neutral holiday décor to your advantage during the holidays. It makes your home cozier and brighter!
When it comes to holiday décor, you want to dial it back a bit if you normally go all out. You don't want your home to look smaller because it's cramped with décor, and you don't want buyers to miss any great features because they're hidden with décor.
Consider using a smaller Christmas tree than usual if it takes up a lot of space in a room, and decorate it with neutral décor rather than homemade ornaments. Stick to a tree, a wreath on the front door, and some lights on your roof or in your trees. Light up the walkway outside. Inside, only use battery-operated candles, and incorporate seasonal aromas.
For more tips on selling your Katy home during the holidays, contact me! Like I said, as your Katy real estate agent, I am here and ready to help whenever you're ready to begin. If you want your holiday gift to yourself this year to be to sell your home, contact me, and let's together achieve your Katy real estate market goals!
Mickie Cioccia
Mickie C and Company Realty
Check Out Our Website
See Katy and Houston, TX Homes for Sale 
Become Our Facebook Fan
Follow Us on Twitter
Connect With Mickie on LinkedIn
Contact Our Team
Share on Facebook