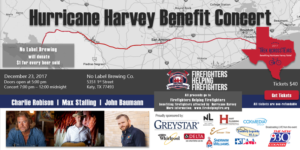 As we all prepare for the holiday parties we'll be hosting or attending in the coming week, let's take a moment to be grateful for our Katy and Houston area homes, and to remember those who lost their homes this year to Hurricane Harvey. As your Katy real estate agent, I'd like to fill you in on the details of the Hurricane Harvey Benefit Concert coming up this Saturday!
No Label Brewing Co. in Katy, TX is hosting a Hurricane Harvey Benefit Concert this Saturday, Dec. 23, from 5 p.m. to midnight. Tickets cost $40 and all proceeds from ticket prices will go straight to Hurricane Harvey Relief. No Label Brewing is also donating $1 for every beer sold to Hurricane Harvey Relief as well, so drink up! There will also be food available for purchase from food trucks Mingo's, A&B Ringmasters and Curbside Sliderz.
Live entertainment for the evening will begin at 7 p.m. and consist of Charlie Robison, Max Stalling and John Baumann. Charlie Robison is an American country music singer/songwriter, Max Stalling is a Texas country music singer/songwriter, and John Baumann is a Texas country singer. So put your cowboy boots and hats on and enjoy a classic night out in Texas, right before the holidays!
If you have holiday plans and can't make it to this fundraiser, but still want to help those in need this holiday season, you can donate right to the Hurricane Harvey Relief Fund as a one-time donation or a monthly donation. This is the perfect time of year to think of neighbors in Texas who were less fortunate than you this year.
As your Katy real estate agent, I hope you have a joy-filled holiday season in the coming weeks! If looking for a way to ring in the New Year, check out this list of New Year's Eve events taking place in the greater Houston area. You'll be sure to find one that suits your fancy! Or, you could always host a party at your Katy home as well and make it a more low-key evening.
When ready to accomplish your home-buying or home-selling goals in the Katy real estate market, contact me. What better New Year's Resolution could you commit to than to make your real estate dreams a reality in 2018? I am here and ready to help you make that happen! I look forward to hearing from you.
Happy Holidays, Katy!
Mickie Cioccia
Mickie C and Company Realty
Check Out Our Website
See Katy and Houston, TX Homes for Sale 
Become Our Facebook Fan
Follow Us on Twitter
Connect With Mickie on LinkedIn
Contact Our Team
Share on Facebook