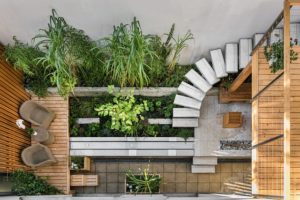 With Memorial Day coming up this weekend, you might be in the mood to improve the outdoor space at your Katy home. Perhaps you're even hoping to host a barbecue this weekend, or entertain guests in the months to come. If you'd like to sell your Katy home, maybe you're thinking about how you could increase the value of your home and improve your home's curb appeal.
As your Katy real estate agent, I am here to offer you suggestions for summer! Here's where the experts recommend you focus your attention outdoors:
1.  Inspect and update decks and patios. Inspect to see if your deck or wooden patio is structurally sound. Repair or replace any wooden boards as needed. Then sand, stain and seal your deck so it remains in great shape all season. With a stone patio, check for missing pieces and fill them in as needed.
2.  Fill with furniture. What good is a beautiful outdoor space without a place to sit and enjoy it? If updating, choose weatherproof furniture that is both durable and comfortable. Some basics include a table with an umbrella and chairs, and some lounge chairs. Go all out with a hammock and fire pit.
3.  Add color and accessories. For a visually appealing outdoor spaces, consider investing in some bright colored cushions and pillows to accommodate your patio furniture. An outdoor rug is another great way to add vibrancy and comfort to your space, and it can help protect your deck or patio.
4.  Update your landscaping. Whether you love gardening or you're more hands-off, there are landscaping options for you. Keep your lawn mowed, bushed trimmed and weeds pulled. Then decide whether you want extravagant gardens, just some mulch around trees, or pre-bought hanging baskets for color. Planting trees or shrubbery around the borders of your yard can provide extra privacy.
5.  Install outdoor lighting. Lighting is key for entertaining on summer nights! Strands of tea lights or bistro lights across your patio make for a great ambiance, while sensor or smart lights add extra security. The moonlight effect is gaining popularity, which is a naturalistic look that features lighting no more intense than a full moon. For more information on this, check out this HouseLogic article.
For more ideas for improving your yard, read this RISMedia article. For tips on how to improve the value of your outdoor space, check out this past blog post. This weekend is a great opportunity for working on your outdoor space. Soon, visiting your Katy home and spending time outside will be on everyone's summer agenda!
When ready to sell your Katy home this summer, or when ready to buy a Katy home, give me a call! As your Katy real estate agent, I'll be working all summer long to help you make your goals a reality in the Katy real estate market. Enjoy your holiday weekend, and then contact me to discuss your real estate goals this season!
Mickie Cioccia
Mickie C and Company Realty
Check Out Our Website
See Katy and Houston, TX Homes for Sale 
Become Our Facebook Fan
Follow Us on Twitter
Connect With Mickie on LinkedIn
Contact Our Team
Share on Facebook