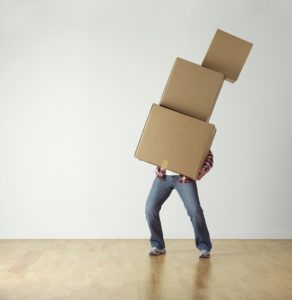 If you are buying or selling in the Katy real estate market this spring or summer, you've got a move ahead of you! Reports have shown that moving can be as stressful as or more stressful than planning a wedding or getting a divorce. That's a lot of stress! You can avoid much of it, though, by planning ahead. As your Katy real estate agent, I am here to help!
First, check out my Moving Checklist, which gives you a guideline to follow eight weeks before, six weeks before, four weeks before, three weeks, two weeks, one week and 2-3 days before. Follow that, and you won't miss a step or have to backtrack steps!
I've also got 14-foot moving trucks available for my clients to use for FREE! The trucks come fully loaded with a ramp, three dollies, and a bin full of furniture pads. Whether you're buying, selling or both with us, these trucks are offered to our clients based on availability.
If you decide to hire a moving company, here are some questions to ask, according to RISMedia:
1.  Do you have references? This day in age, it's easy to look a company up on Google and find reviews from past clients. However, if you can't find any reviews, or even if you can, it's still a good idea to ask the company for references so you may contact past clients and ask them questions about the quality of service.
2.  What specific services do you offer? This varies greatly from company to company, so determine what your needs are, and then see if each company you contact can provide them. Will they move a grand piano or four-post bed? Will they load a truck you rented yourself? Ask what their minimum and maximum workloads are.
3.  Do you offer in-home estimates? There's no better way to find out what a moving company will cost than to have them actually come to your house and give you an estimate. Have a few do this and you have a great way to compare. Make sure to get the estimates in writing!
4.  Will you draw up an inventory of my items? When using a moving company, you risk the chance of losing items. It's helpful if a company is willing to create a detailed and organized list of your items. This can save you a lot of time from having to do this yourself as well.
5.  What happens if something is lost or damaged? Find out what each company's policy is on this. Most will offer optional coverage for repairs or replacements, which will cost more, so it's up to you to decide if this is important to you.
Before you move, you need to accomplish your home-buying and/or home-selling goals in the Katy real estate market. As your Katy real estate agent, I am here and ready to help make that happen! Give me a call and let's work toward your goals this spring/summer.
Mickie Cioccia
Mickie C and Company Realty
Check Out Our Website
See Katy and Houston, TX Homes for Sale 
Become Our Facebook Fan
Follow Us on Twitter
Connect With Mickie on LinkedIn
Contact Our Team
Share on Facebook