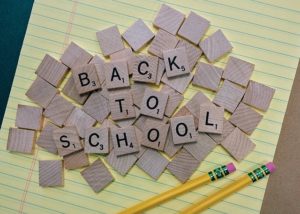 August has arrived in Katy TX, which means that we get half a month of summer, and half a month of back-to-school activities! As your Katy real estate agent, allow me to fill you in on upcoming events and activities, so you can enjoy what is left of summer and prepare your family for the school season.
1.  Chick-fil-A always hosts family-friendly events for the Katy community! Start the month off by making tent crafts, listening to campfire songs and enjoying a cookie s'more from 5:30 to 7:30 p.m. tonight at the Mason Road location. Then they'll have a last sleepover of summer later in the month, along with back to school activities.
2.  New Katy High School freshman can get acquainted with the school at Fish Camp on Aug. 3. It includes motivational sessions, campus tours, pep rallies, school song, Class of 2022 shirts, lunch, staff member meet-and-greets and more. A dance will take place that night. At CRHS, sophomores and juniors can get textbooks, course lists, parking permits and more Aug. 6. Seniors and Fish Camp can head to the school on Aug. 8.
3.  Get into the back-to-school spirit by learning how to spin and toss a flag like the Katy High School Color Guard! On Aug. 9, all participants will learn two routines and then perform them with the Color Guard and the Katy Tiger Band at the Tiger Band Showcase performance. Clinics are available for 1st through 4th grade from 10 a.m. to 1 p.m., then 5th to 8th grade 12 to 3 p.m. The Showcase will take place Aug. 9 at 7 p.m. at the Tiger Stadium.
4.  Aug. 8, get decked out in your best 80's gear and head to No Label Brewing Co. for the 2018 Katy Summer Tailgate! This back-to-school bash will benefit YMCA Operation Backpack and other outreach programs, so it's the perfect chance to support a great cause while having a blast! Admission is $20, kids 12 and under are free. There will be sno cones, food trucks, live music, and of course, beer for adults.
5.  LaCenterra is hosting Cinema Under the Stars all month long! Coming up Aug. 18 from 7 to 10 p.m., head to the courtyard for a showing of 'The Greatest Showman.' Arrive early to enjoy a petting zoo of baby animals from Wild Things Zoofari. Grab food or bring your own, along with chairs or a blanket.
6.  Aug. 20, from 7 to 9 p.m., join others from the Katy community at the Katy High School Town Pep Rally! Head to Rhodes Stadium for the opening of the fall 2018 football season. There will be band and cheer performances, player introductions and more.
7.  On Aug. 27, bring kids anywhere from one month to eight years old to Story Time at Central Green Park at LaCenterra. Award-winning children's author Maria Ashworth will be there to read to kids and teach them all sorts of skills through music, finger play, art and storytelling. It's free and all supplies are included.
Enjoy your month in Katy TX! If you'd still like to accomplish your Katy real estate market goals this summer, you've got time! Contact me, your Katy real estate agent, for help buying, selling or both this month. Finish your summer feeling accomplished and living in the home of your dreams!
Mickie Cioccia
Mickie C and Company Realty
Check Out Our Website
See Katy and Houston, TX Homes for Sale 
Become Our Facebook Fan
Follow Us on Twitter
Connect With Mickie on LinkedIn
Contact Our Team
Share on Facebook