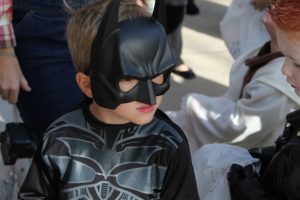 Halloween is one week away in Katy TX! Do you have your costume picked out? As your Katy real estate agent, allow me to fill you in on where you and your kids can celebrate in the coming week, so you can make the most of this spooky season.
1.  This Friday, Oct. 26, is Kid's Night at CAP! From 6:30 to 9:30 p.m., you can drop your kids off for a night of fun with CAP Animal Shelter & Pet Adoption Center staff and teen volunteers. This night will be a 'Howl-o-ween' themed gathering with animal themed fun, games and dinner.
2.  Fifth Street Spooktacular will take place on Saturday, Oct. 27, from 5 to 9 p.m. Head to Fifth Street in Katy for trick-or-treating, costume contests, crafts and more. Be sure to dress in costume and bring your camera!
3.  Saturday night, adults can head to Mo's Annual Halloween Bash at Mo's Irish Pub. There will adult costume contests in an array of categories, along with live music. There is no cover charge.
4.  While not necessarily Halloween themed, Houston Family's Fun Festival will take place at LaCenterra at Cinco Ranch this Sunday, Oct. 28. From 12 to 4 p.m., enjoy a plethora of family-friendly activities, such as inflatables, face painting, a rock wall, food trucks, stage performances, goodie bags and more. All of the activities are free!
5.  On Sunday, CAP will continue the fun with a Howl-o-ween event open to everyone! It'll include spooktacular pet photos, tasty treats for humans and pets, face painting and more. If you'd like to adopt a pet that day, adoption fees will be waived! This runs from 11 a.m. to 6 p.m.
6.  Oct. 31 is your last chance to grab pumpkins to carve, paint or just display at your Katy home! Head to the Pumpkin Patch at FCC Katy daily through October. Pick out your perfect pumpkin, take pictures, play games and more. There is storytelling on Saturdays, and if you stop at the Patch Tent, you can grab a Pumpkin Seek and Find game to do with the family.
7.  Seven Lakes Choir presents 'Heroes and Villains' Nov. 2 and 3 at Seven Lakes High School. Watch a performance from the award-winning choir, Sensations!
Enjoy these Halloween-themed activities coming up in Katy! When ready to accomplish your Katy real estate market goals this fall season, contact me, your Katy real estate agent. The holiday season will continue, and before you know it, Thanksgiving and the winter holidays will arrive! If you'd like to buy, sell or both, now is the time to do it. As soon as you're ready, or if you have questions, I am here to help! All you have to do is call, and let's get the ball rolling.
Mickie Cioccia
Mickie C and Company Realty
Check Out Our Website
See Katy and Houston, TX Homes for Sale 
Become Our Facebook Fan
Follow Us on Twitter
Connect With Mickie on LinkedIn
Contact Our Team
Share on Facebook