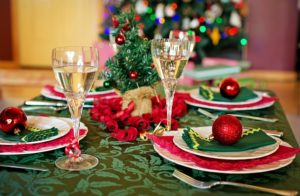 Are you hosting a holiday gathering at your Katy home in the coming week? Cooking all that food in your kitchen, and having that many people in your house, can take a toll on any homeowner! To help you prepare, as your Katy real estate agent, here are some tips I collected for you:
1.  Clean your kitchen appliances. Give your microwave a good scrubbing, especially if it is above the stove and acts as a ventilator. Use a degreasing spray on it, and on your stovetop, to prevent any grease fires. Clean the outside of the oven, but don't use the self-clean cycle. This is hard on most ovens, and you don't need that going out right before the big day!
2.  Prepare your refrigerator. Go through your condiments and toss anything that is expired. Eat leftovers leading up to your big holiday gathering, so that there is plenty of space for appetizers, dinner and leftovers. Organize and clean, as lots of people will be going in and out of the fridge.
3.  Prepare the bathroom. Clean, organize, declutter. Take everything off the sink that doesn't need to be there. Then make a guest bathroom station with soap, lotion, extra towels, whatever you think a guest may need, so you don't need to be bothered with these things on the big day. Keep a plunger and extra toilet paper handy as well!
4.  Prepare the entryway. Outside, make sure your front porch light is working, and consider lighting your walkway, so there are no slips on your guests' way in. Inside, remove clutter from your foyer and consider a welcome mat for shoes, a coat rack, a bench where guests can remove shoes, etc.
5.  Child-proof the main living areas if you have lots of children coming. Move lamps, vases and other breakables from table edges. Block stairways to prevent falls. Purchase some plastic cups, or sippy cups, depending on the children's ages.
6.  Set up a drink station. Drinks are something that most guests can handle on their own, so one less thing for you to manage. If guests are staying with you, set up a morning coffee station. For the gathering, set up a counter or table for alcoholic and non-alcoholic beverages. Have glasses, an ice bucket, utensils, beverages, garnishes, whatever you feel the need to include!
7.  Prepare appetizers and desserts ahead of time. Whether you need to cook or bake, or just set them up on a tray, do this before guests arrive to cut down on your to-do list. Consider a potluck too, so you have less cooking to worry about, and more merriment to enjoy!
8.  Set up extra seating. Set up chairs where you hope guests will hang out. Face furniture toward each other, to create ideal social situations. If you need more seating, ask your guests to bring some chairs!
The important thing is to stress less and enjoy more. As your Katy real estate agent, I wish you a happy holiday season! When ready to achieve your Katy real estate market goals in the New Year, give me a call!
Mickie Cioccia
Mickie C and Company Realty
Check Out Our Website
See Katy and Houston, TX Homes for Sale 
Become Our Facebook Fan
Follow Us on Twitter
Connect With Mickie on LinkedIn
Contact Our Team
Share on Facebook