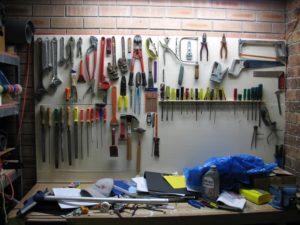 If you'd like to sell your Katy home sometime this year, now is the time to consider whether any home repairs or renovations should be done. You may not want to spend money on improving your home right before selling it, but doing so could help you sell your home faster and for more money, depending on what shape your home is in now.
As your Katy real estate agent, allow me to fill you in on what repairs or renovations are worth doing. While some could help you sell your home for a higher asking price, others won't have that same effect. Not all upgrades are equal when it comes to ROI, or return on investment!
Let's first discuss repairs. If your home has issues that could make or break a sale, it's wise to fix these ahead of time. Here are three examples of repairs that support a higher asking price:
Fixing flooring flaws – If your hardwood has scratches in it, your linoleum has stains or looks dull, or your carpet is ratty, outdated or smelly, this is definitely something that will quickly turn buyers away. According to NAR's 2017 Remodeling Impact Report, homeowners will spend an average of $3,000 to refinish hardwood floors, but they'll recoup 100 percent of that cost at resale.
Repairing water stains – If you've got plumbing issues, you should definitely have those repaired, as they will come up in a home inspection. You should also take care of leftover water stains, as this may mislead buyers into thinking there are still issues, and they're unsightly! Fix water-stained ceilings for about $670, and repair drywall for $1.50 per square foot.
Touching up grout – Yellow or cracked grout will turn off buyers, and this is a simple way to improve the look of floors, backsplashes, bathtubs, etc. This is also one of the cheapest upgrades you can make, as re-grouting costs start as low as $1 to $2 per square foot.
More information about these top three repairs for home sellers can be found in this Realtor Magazine article. Then check out this KCM Crew article if interested in renovations that yield great ROI. These include:
Minor bathroom remodel, yielding 102 percent ROI
Upgraded landscaping, yielding 100 percent ROI
Minor kitchen remodel, yielding 98.5 percent ROI
Exterior improvements, yielding 95.5 percent ROI
While these types of upgrades aren't necessary before selling, unless your home is very outdated, they are great options for Katy homeowners who aren't ready to sell yet, but who would like to in the coming years. Or, if your home does need an upgrade before selling, rest assured that these efforts will yield great ROI when you list in the Katy real estate market!
If you've got questions about the market, or you're ready to begin the home-selling process now, contact me, your Katy real estate agent! I am here and ready to answer all of your questions and to guide you through the entire process, until your 2019 real estate goals are a reality!
Mickie Cioccia
Mickie C and Company Realty
Check Out Our Website
See Katy and Houston, TX Homes for Sale 
Become Our Facebook Fan
Follow Us on Twitter
Connect With Mickie on LinkedIn
Contact Our Team
Share on Facebook