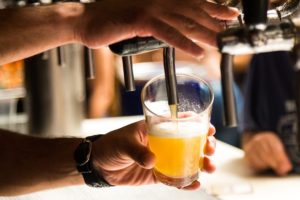 The spring season continues as a plethora of fun events and activities arrive in the Katy community! As your Katy real estate agent, allow me to fill you in on what to look forward to in the coming weeks in Katy, TX. There is always something!
1.  Katy Wild West Brew Fest 2019 is this Saturday, April 27, from 3 to 9 p.m. at Katy Mills! This is hosted by the Rotary Club of Katy, so proceeds go to great causes. There are numerous ticket options, but the main event gets you a sampling card good for 12 craft beer samples and live entertainment. VIP tickets feature early admission, specialty beers and complimentary food. You can purchase more sample cards as you go.
2.  Relay for Life takes place in Katy this weekend, beginning at 5 p.m. on Saturday at Katy City Park. Put together a group or join a group and join the fight toward finding a cure for cancer and walking with others. Choose your campsite for the night, dedicate a luminaria to a loved one, or donate to a team.
3.  Typhoon Texas Kids Triathlon will take place May 4 at Typhoon Texas in Katy! Kids ages 6-10 can sign up for the short course, which consists of a 100-meter swim, a two-mile bike ride and a one-mile run. Kids ages 11-15 can sign up for the long course, which consists of a 200-mile swim, a four-mile bike ride and a two-mile run. Participants can enjoy the park free of charge afterward!
4.  Taste of LaCenterra will take place May 9 at Cinco Ranch from 6 to 9 p.m. Enjoy small bites from new and favorite restaurants, a large selection of wine, beer and cocktails for purchase, live music by Danny Ray and the Acoustic Production, and a silent auction with items to bid on. Proceeds will benefit Katy-based charity Hope Impacts. You can view participating restaurants here!
5.  Other upcoming events at LaCenterra include the Farmers Market April 28 from 11 a.m. to 3 p.m., Mondays with Mommy on May 6 from 10 to 11 a.m., Camp Gladiator Bootcamp on May 25 from 8:30 to 9:30 a.m., and Cinema Under the Stars on May 16 from 6 to 10 p.m. The move this month will be "Instant Family," rated PG-13.
Enjoy the month ahead, and before you know it, school will be out for summer! If you'd like to achieve your Katy real estate market goals before summer arrives, either as a seller, buyer or both, give me a call! As your Katy real estate agent, I can answer your questions and help guide you through the home-selling and/or home-buying process.
The sooner you contact me, the sooner you'll accomplish your real estate goals and be living where you want, able to spend all of your time enjoying your new home and all of the fun activities available in the Katy community. I look forward to hearing from you!
Mickie Cioccia
Mickie C and Company Realty
Check Out Our Website
See Katy and Houston, TX Homes for Sale 
Become Our Facebook Fan
Follow Us on Twitter
Connect With Mickie on LinkedIn
Contact Our Team
Share on Facebook