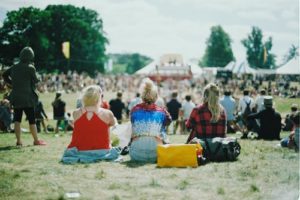 We're in the heart of summer, and with it comes a slew of fun events in Katy, TX! As your Katy real estate agent, allow me to fill you in on upcoming events and activities in the community. If your kids experience a moment of summer boredom, you'll have fun ideas ready to go!
1.  LaCenterra at Cinco Ranch presents Third Thursday with live music and lawn games from 6 to 8 p.m. this Thursday, July 18. This takes place in the courtyard. Fidelity Maxx will perform a range of funk, classic, R&B, rock 'n' roll and pop. Bring lawn chairs and blankets!
2.  Drum Corp International's Tour of Champions will be performing at Legacy Stadium in Katy on July 19. Lineup includes Phantom Regiment, The Cadets, Blue Stars, The Cavaliers an many others. Event begins at 7:30 p.m. and tickets cost $33-$58.
3.  The Katy Branch Library and Serene Beans Coffee Shop will co-host a 50th anniversary Moon Party from 6:30 to 7:30 p.m. this Friday, July 19. Celebrate man landing on the moon at Serene Beans with crafts, food and fun for the whole family.
4.  Sunday, July 21 is the seventh birthday of Central Green Park. To honor this, they are hosting a British Invasion Birthday Bash from 6:30 to 9 p.m.! This will feature live music, jugglers, comedy, stilt characters, games, face painting, art, British dancers, giveaways and more.
5.  Catch Cirque Italia on July 21 at 7:30 p.m. and marvel as performers from all over the world gather under the big top and merge their skills with the element of water. Performers include jugglers, roller skaters, acrobats and many more artists. There will even be a prehistoric dinosaur making an appearance. It's not a show your family will soon forget!
6.  Chick-fil-A locations in Katy host numerous family-friendly events all summer long for kids of all different ages. From Toddler Time to Preschool Storytime, there is something for everyone. Activities are free and usually include complimentary face painting and balloon animals, along with different themes. On Mondays, moms can take a community walk with their strollers!
7.  Sign up for a Ukulele 101 Class at Element Houston Katy. These take place Tuesday evenings, with the next one coming up June 23. In the class, you'll learn how to play 10 songs in 10 minutes with no prior musical training! Bring your own ukulele or borrow one.
8.  The next Cinema Under the Stars will take place at LaCenterra on Saturday, Aug. 10. The movie shown will be 'The Incredibles!' Bring lawn chairs or blankets and enjoy a family-friendly film outdoors.
Along with these upcoming events, the community pools are open, the beach is a daycation away, and there are plenty of parks, restaurants, ice cream shops and stores to explore and keep you busy in Katy! The Katy community is a family-friendly place to live, and a great place to spend your summer season.
When ready to accomplish your Katy real estate market goals, give me a call, your Katy real estate agent. I don't take a summer vacation from real estate! If you've got questions about the local market, need assistance moving or relocating, or are ready to begin the home-selling and/or home-buying process, give me a call! I am always here and ready to help!
Mickie Cioccia
Mickie C and Company Realty
Check Out Our Website
See Katy and Houston, TX Homes for Sale 
Become Our Facebook Fan
Follow Us on Twitter
Connect With Mickie on LinkedIn
Contact Our Team
Share on Facebook