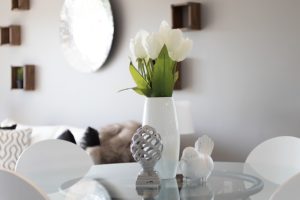 When it comes time for you to sell your Katy home, give me a call, your Katy real estate agent! I can answer any questions you may have and can guide you through the entire home-selling process.
One of the easiest ways to attract potential buyers to your Katy home is to stage your home to sell. How much you stage is up to you, but there are some really simple steps you could take to improve the look of your home in photos and in person. These tried-and-true techniques help potential buyers imagine themselves living there.
1.  Make the first impression count. Most buyers see a photo of the front of the house first, and that is obviously what they will see first when visiting in person. Take some time to spruce up the front exterior and front entryway. Paint the front door, power wash the siding, and flank the entry with flowers pots.
2.  Swap out decorations. If you've got family photos or children's artwork hanging on your walls, remove these personal items and swap them out for some neutral artwork. Ask your agent how much she recommends you hang on your wall. Landscaping prints are always a safe bet!
3.  Improve the furniture. If your rooms are overcrowded with furniture, remove some so your rooms are portrayed in the best light. Rearrange furniture so that they face each other and create social settings. If your furniture is really worn out, trade it in for newer items, or consider new pillows or slipcovers.
4.  Neutralize. If you've got any bold, out-of-the-ordinary design styles going on in your Katy home, consider neutralizing them, in order to appeal to the largest number of buyers. This may mean repainting some of your rooms a more neutral color, and removing any bold home accessories.
5.  Spend time on the kitchen. Buyers love their kitchens, so spend time making this room look spotless and attractive. Remove all clutter from counters and cabinets. Deep clean everything, from floors to grout lines. Display a few key items, such as a bowl of fruit or a vase of fresh flowers.
6.  Clean the bathrooms. Buyers also pay close attention to bathrooms. This is another area where you'll want to remove as much clutter as possible, and really give it a deep cleaning. Once that is done, display a few items, such as clean white towels in a basket on your sink.
7.  Improve the backyard. Buyers love their outdoor space, so be sure to make your backyard look as inviting as possible. Wash your deck or patio, and stain or paint if necessary. Arrange patio furniture in an inviting way. Mow and water your lawn so it's nice and lush. Store away lawn toys or tools.
These steps will get you well on your way to attracting buyers to your listing! When ready to sell in the Katy real estate market, or if you have questions about the home-selling process, contact me, your Katy real estate agent. I am here to help!
Mickie Cioccia
Mickie C and Company Realty
Check Out Our Website
See Katy and Houston, TX Homes for Sale 
Become Our Facebook Fan
Follow Us on Twitter
Connect With Mickie on LinkedIn
Contact Our Team
Share on Facebook