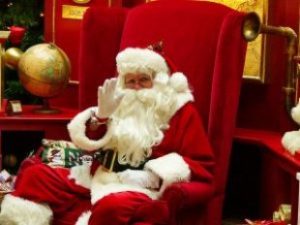 December is here, which means a whole slew of holiday events are coming your way in Katy, TX! If you don't find yourself in the holiday spirit yet, these events will surely help you get there, and can give you a break from the stress that often comes with the holidays. As your Katy real estate agent, I've put together a list of upcoming events to get excited for!
1.  The Katy Christmas Tree Lighting will take place tomorrow, Dec. 5, at 6:30 p.m. in front of Katy City Hall. Enjoy a Christmas story, entertainment from a local choir and dance company, Santa sightings and photos, hot chocolate and cookies, and the lighting of the tree, of course!
2.  Holiday Home Tour takes place Dec. 5 from 5 to 9 p.m., and Dec. 6 from 10 a.m. to 2 p.m. and 5 to 9 p.m. These tours allow you to view local Katy homes filled with beautiful holiday décor! This is a great way to motivate you to decorate, or to give you some fresh decorating ideas. Proceeds go to a great cause, and there will also be silent auction baskets and decorated wreaths available.
3.  Katy's Old Fashioned Christmas Festival is this Saturday, Dec. 7! Don't miss this family-friendly tradition. It's free to attend and runs from 10 a.m. to 5 p.m. in Downtown Katy. Get some holiday shopping done at the Christmas market, featuring produce, arts and crafts, antiques, jewelry and more. Enjoy carolers, food trucks, entertainment, and the main attraction, 50,000 pounds of snow! The kids can meet Santa, the adults can enjoy the beer garden, and everyone can get in the festive spirit.
4.  Messiah Singalong at St. Peter's United Methodist Church will take place Dec. 8 at 7 p.m. For more than a decade, the Chancel Choir at St. Peter's has been performing Part I and the Hallelujah Chorus of Handel's Messiah! It's free to attend, and sheet music will be available if you want to sing along!  They also have a Christmas Concert on Dec. 15, along with other Christmastime activities to check out.
5.  Santa is at Katy Mills all month long, through Dec. 24! On Dec. 8, children with special needs can visit Santa during a special sensory-friendly Caring Santa day. On Dec. 7, 14, 21 and 24, kids can enjoy Breakfast with Santa at Rainforest Café!
6.  Fantastical Christmas Concert at LaCenterra will take place Dec. 21 from 7 to 9 p.m. This will be a night of Christmas songs and classic rock mashups from Frank Hart & Friends on LaCenterra's Central Green! Enjoy music, prizes, dancing, elves and more. You can get some shopping done while you're there, too! Check out the website for items you can bring to donate to great causes.
Enjoy your holiday season! If your Katy TX dream home is on your wish list, give me a call, your Katy real estate agent! I am here year-round to help you achieve your Katy real estate goals.
Mickie Cioccia
Mickie C and Company Realty
Check Out Our Website
See Katy and Houston, TX Homes for Sale 
Become Our Facebook Fan
Follow Us on Twitter
Connect With Mickie on LinkedIn
Contact Our Team
Share on Facebook