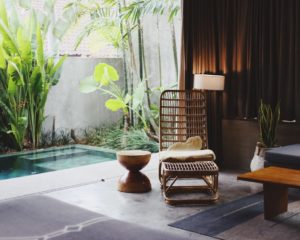 Are you sick of your Katy TX home yet? With adults working from home, and kids schooling from home, a lot of homeowners are experiencing more time and stress in their home environment. Now is a great time to determine how to make your home more tranquil, a place where people want to hang out, and a place where you can melt your stress away!
As your Katy real estate agent, I've put together a few suggestions. Realtor Magazine shared that 32 percent of homeowners said they already had taken on both big and small DIY house projects during the pandemic, and 15 percent said they plan to soon. So, now is as good a time as any to make your house the home you prefer!
1.  Decide what relaxes you. Before you can create a nook to zen out in, you have to decide what your corner of paradise would look like. How do you like to decompress? Do you love to read? Do you love to take baths? Do you love to end the work day with a cocktail? Do you love spending time outdoors? This will help you plan your next move.
2.  Set aside space in your home. Decide where your tranquil nook will go. If you have a spare room, you can deck it out with whatever make you happy – Bookshelves, a comfy chair or couch, houseplants, etc. If you don't have that much space to work with, what corner of what room could you move things around in? You put a desk in a closet to make a private-ish office, create a mini bar with a TV stand, make a spa in the bathroom with some candles and soft music, or hang a hammock outside.
3.  Create an atmosphere. Think about what will bring you the most joy, or relaxation, or whatever it is you're going for. Think color schemes, such as bright colors to bring you a vacation-like feel, calm colors to feel zen, or neutral colors to help you focus. Add pops of color, such as flowers or plants, or throw pillows or rugs, to make the space feel homier.
4.  Organize. Clutter is shown to stress homeowners out, so find ways to organize. If your kids are spreading toys around, have color-coordinated bins for each type of toy, so it's easier to put them away. Create a toy room, so the toys stay in one space. Dedicate a time of day, or a day of the week, to clean up clutter, so it remains manageable while our homes are 'lived in' more than usual.
More ideas: Create separations between your work space and living space, so the two don't blend together and it still feels like you're leaving work. Create space outside to enjoy, even if it's just foldout chairs or a chair and table. Any type of sitting space outdoors can help lead you there. Create an inspiration board you can hang wherever need be, full of your favorite quotes, photos, etc.
How have you made your home more tranquil during the pandemic? Share a tip in the comments! If you're ready to buy or sell in the Katy real estate market, give me a call. As your Katy real estate agent, I am here to help guide you through the home-selling and/or home-buying process. Real estate never stops, so why should you put your goals on hold? Contact me, let's discuss your options!
Mickie Cioccia | Broker Associate
Mickie C Team
Check Out Our Website
See Katy and Houston, TX Homes for Sale 
Become Our Facebook Fan
Follow Us on Twitter
Connect With Mickie on LinkedIn
Contact Our Team
Share on Facebook