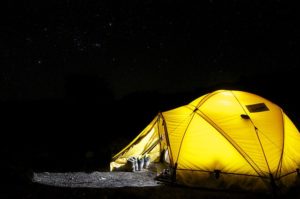 This coming weekend is Father's Day, so if you don't have a plan for celebrating dad yet, as your Katy real estate agent, I've put together a guide to help you plan! While you may have to think a little more creatively this year, there are still plenty of great ways to celebrate dad in or near Katy TX:
1.  Go camping. We've all been cooped up at home, so this weekend is a great opportunity to go camping as a family and spend all your time outdoors! Some nearby camping options include Huntsville State Park, Livingston State Park, Dinosaur Valley State Park, Galveston Island State Park, Jellystone Park & Campgrounds, and more. These range anywhere from less than an hour from Katy, to four hours away.
2.  If you don't want to commit to a whole weekend of camping, another great option is to get up early and plan a hike or bike ride on a nearby trail! You've got options in Cross Creek Ranch, Cinco Ranch, Elyson and more. You could also head to a nearby park, such as Bear Creek Park, Cullen Park, Eagle Ranch West Pocket Park, Fry Road Park and others. Find a whole list here!
3.  If dad doesn't feel like grilling this weekend, take him to ErmaRose Winery in North Katy for some wine and BBQ! Daddy Duncan's BBQ food truck now has a permanent location at the winery and will be serving up delicious food every Friday and Saturday night starting at 5 p.m.
4.  How long has it been since dad has been out to dinner at a restaurant? Effective June 12, restaurants are able to be open for dine-in at 75 percent occupancy. If dad has a favorite Katy restaurant, call ahead to make sure they are open and try to make a reservation. Here is a list of restaurants open at LaCenterra. There is still the option of takeout or delivery as well, to enjoy at home!
5.  Head to a pool to cool off, or head to Typhoon Texas for some water park fun! If you plan to visit Typhoon Texas, you must call ahead and make reservations. If you plan on visiting a community pool or public pool, visit the website or call ahead to see if there are any special requirements you need to follow right now.
6.  Enjoy a staycation at home. If you'd rather stay safe at home, there are plenty of ways to have fun while doing so this Father's Day. Make dad his favorite meal, or have dad grill his favorite food in the backyard. Play yard games, watch dad's favorite movie together, go camping in your backyard, splash around in your pool if you have one, cook s'mores in a fire pit, go for a bike ride around your neighborhood. Do whatever dad loves most!
Happy Father's Day to all the dads out there! If you've got goals this summer for buying/selling in the Katy real estate market, give me a call. As your Katy real estate agent, I am here and ready to help you out!
Mickie Cioccia | Broker Associate
Mickie C Team
Check Out Our Website
See Katy and Houston, TX Homes for Sale 
Become Our Facebook Fan
Follow Us on Twitter
Connect With Mickie on LinkedIn
Contact Our Team
Share on Facebook