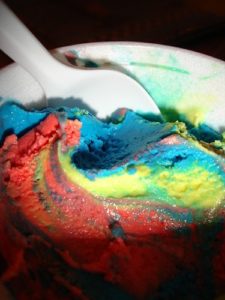 It's hard to believe, this year especially, that summer is already winding down. As your Katy real estate agent, I'm here to share some summer activity options here in Katy, so you can make the most of the summer weeks we still have left! As always, if you have Katy real estate market goals you'd like to achieve before summer's end, give me a call. I'd love to help!
1.  Go fishing. There are lots of great places to go fishing in Katy, but if you're looking for a family-friendly spot that won't be too crowded, Katy Magazine shared some spots that are a little more hidden. These include fishing holes at Mary Jo Peckham Park, Mason Creek, Grand Lakes, Bear Creek and others. Choose a spot and make a day of it!
2.  Cool off with dessert. There is no better season to enjoy a delicious ice cream or gelato dessert! Katy has plenty of fun options. Creamistry prepares your dessert with liquid nitrogen and has 50 customizable flavors and toppings. Bubble Egg delivers a Hong Kong classic with numerous ice cream flavors and toppings paired with an egg waffle. Somi Somi has a Koren "Ah-Boong" dessert with goldfish-shaped waffle cones stuffed with a filling and soft serve. Freezy Frenzy has rolled ice cream. There are so many interesting varieties of frozen desserts to choose from!
3.  Go hiking or biking. Getting outside and getting exercise are both great ways to reduce stress and improve your health this summer. There are lots of places to walk or bike outdoors in Katy, within neighborhoods and at local parks. Bear Creek Park has a 2-mile walking trail. Eagle Ranch West Pocket Park has a 0.67-mile walking trail. George Bush Hike and Bike Trail has 11.36 miles of trail. Mason Creek Hike & Bike Trail is 2.35 miles with fishing access. Rick Rice Park has a 1-mile trail and a 20-mile trail. Check out the whole list to help you plan!
4.  Dine out. Support local restaurants and food trucks by giving yourself a night off from cooking! Whether you dine on a local patio, or grab food to go and eat it at home or in a park, you've got lots of options. Here's a list of local food trucks, including Mingo's Latin Kitchen, Bahama Mama's, Daddy Duncan's BBQ and more. Here's a list of local restaurants with outdoor patios, including Antonia's Italian Ristorante, Baker Street Pub & Grill, Black Walnut Cafe, Dish Society, Local Table, TaD's Louisiana Cooking and many more.
You could also spend your last summer weeks going swimming, playing in the backyard, taking a mini road trip vacation, or spending time tackling clutter in your home, or completing home maintenance checklists. If you want to buy a Katy home or sell your Katy home before the end of summer, contact me, your Katy real estate agent! I am here and ready to answer all of your questions and to guide you through the process, until your Katy real estate goals have been accomplished!
Mickie Cioccia | Broker Associate
Mickie C Team
Check Out Our Website
See Katy and Houston, TX Homes for Sale 
Become Our Facebook Fan
Follow Us on Twitter
Connect With Mickie on LinkedIn
Contact Our Team
Share on Facebook