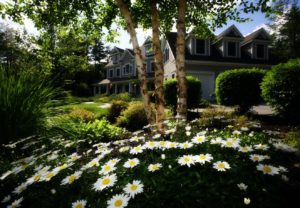 If you'd like to sell your Katy home this late summer or fall, there are many simple ways for you to add value to your home before listing. As your Katy real estate agent, I am here to share a few of these with you, so you can attract more buyers and possibly increase your listing price.
1.  Declutter, clean, organize. This is free and essential to improving the look and value of your home. Remove anything you no longer use or need, and donate/sell/recycle/etc. Then give your house a deep cleaning, and organize what is left, because buyers look in every nook and cranny.
2.  Repaint your home. Whether it's the exterior that needs some improvement, or the walls inside your home, fresh coats of paint can do wonders for home value. Choose neutral colors. It's up to you whether you want to take on the task yourself, or hire professional painters.
3.  Neutralize your décor. Have an honest friend, real estate agent or professional decorator over to help you decide what can stay and what should go. It's hard to judge your own décor, but anything too personal, bold, political, religious, etc. could turn a buyer off. Neutralize as much as possible.
4.  Update your appliances. If your appliances are old and outdated, this is an upgrade that will yield ROI. Stainless steel is still popular, along with energy-efficient models. Upgrades in the kitchen (and bathrooms) are always great value raisers!
5.  Utilize your space. Make sure you're making the most of every inch of your home, so buyers can see the potential. If you've got a large bedroom, add a sitting area or office space. If you have an attic or basement, consider finishing them and converting them to more living space. If you've got space under stairs, turn it into a storage closet. Just don't overfill rooms with furniture.
6.  Spruce up your curb appeal. The outside of your house is the first thing potential buyers will see. Spend time making it look perfect. Repaint or update siding, front door, mailbox, address numbers, garage door, etc. Clean and sweep driveway and walkways. Trim bushes and trees. Mow and water lawn. Pull weeds from gardens. Display a couple pots of colorful flowers.
7.  Turn your backyard into an entertainment space. This year especially, buyers are looking for backyards where they can spend time as a family, and where they can entertain guests. Show off your backyard features, such as a pool, fire pit, outdoor kitchen, etc. Power wash your deck or patio, make any necessary repairs, and stage it with furniture, lights, anything that makes it look inviting.
These are just some steps you could take to increase your home value before listing your home in the Katy real estate market. If you've got questions, or you're ready to get started on the home-selling process, contact me, your Katy real estate agent! I am here and ready to help make your real estate goals a reality!
Mickie Cioccia | Broker Associate
Mickie C Team
Check Out Our Website
See Katy and Houston, TX Homes for Sale 
Become Our Facebook Fan
Follow Us on Twitter
Connect With Mickie on LinkedIn
Contact Our Team
Share on Facebook