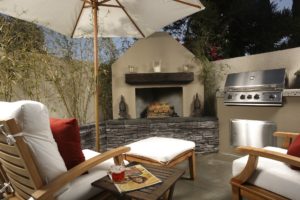 As summer transitions into fall, many of us look forward to cooler temperatures here in Katy TX, especially at night! Now is a great time to consider how to make your outdoor space more enjoyable year-round, even on cold and dark nights. As your Katy real estate agent, I'm here to offer you some suggestions.
During a year when we're spending more time at home than ever, it's important to keep your outdoor space cozy and comfortable well into fall, and even winter, to have that escape into fresh air. Here are some ways to keep your space warm, literally and aesthetically:
1.  Add warming features. To literally warm up your space, consider adding a fire pit, a hot tub, or heating lamps. These are all great features for keeping your body temperature warm while enjoying time outdoors. A fire pit is a family-friendly option, especially when s'mores are involved! A hot tub is more of an adult-friendly option. Heating lamps can go anywhere and can allow for dinners outside, along with time with family and friends well after the sun has set, as they add heat and a bit of lighting.
2.  Light up the space. Speaking of lighting, the hours of darkness are longer in the winter, so it's important to light up your space. Choose a variety of lighting options, so you can change up the ambiance, depending on the mood and occasion. Hanging fairy lights and strands of lights are a great way to create a social atmosphere around a patio or in a gazebo. Lamps, tiki torches and mason jars with tea lights create a more personally lit space.
3.  Add coziness to your space. Whether it's keeping you warm, or it just looks cozier for fall and winter, add some plush cushions to your outdoor furniture, along with throw pillows and blankets. Add all-weather rugs to a deck or patio. Make the space softer and more pleasant to spend time in. If it gets chilly, you can grab one of those blankets to warm up under!
4.  Add walls. If the open air is just too chilly or windy for you to enjoy, consider some wind blockage options. If you have a gazebo or covered patio or front porch, consider hanging curtains to block the wind. A privacy screen is also a great way to not only add privacy, but keep the warmth near you. If you really want to go all out, add an exterior building, like a shed, and decorate it as you wish!
These are all great ways to make your outdoor space inviting even when the temperatures drop in the evenings and the daylight hours become shorter. Looking for a home with more outdoor space? Want to sell and/or buy in the Katy real estate market this fall? The market is hot and mortgage rates are low, now is a great time to act! Give me a call, your Katy real estate agent, with questions or to get started on the process.
Mickie Cioccia | Broker Associate
Mickie C Team
Check Out Our Website
See Katy and Houston, TX Homes for Sale 
Become Our Facebook Fan
Follow Us on Twitter
Connect With Mickie on LinkedIn
Contact Our Team
Share on Facebook