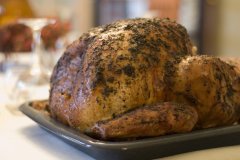 Don't feel like cooking a Thanksgiving meal next week? This is the perfect week to order food from a local business! Local restaurants and businesses need our support more than ever, and plenty of them are offering take-home Thanksgiving meals this year. As your Katy real estate agent, I've put together this list for you, so you can plan ahead and put in your order!
1.  Perry's Steakhouse & Grille has a to-go menu featuring family-style soup or salad with sliced smoked turkey breast, mashed potatoes, gravy, green beans almondine, cranberry relish and homemade bread. Cost is $45 per person, or $139 for a family-style Thanksgiving dinner for four or more people. Desserts are also available for extra.
2.  Landry's Seafood is offering a feast-to-go for 4-6 people. This includes sliced turkey, mashed potatoes and gravy, cornbread stuffing, cranberry relish, vegetables, bread and pumpkin pie. Order by Nov. 22, pick up on Nov. 26. Cost is $125 and serves 4-6 people.
3.  Dickey's Barbecue Pit has a ready-to-eat Holiday Big Yellow Box for 8-12, which includes sliced turkey breast, cornbread dressing, gravy, baked potato casserole, green beans with bacon, and a dozen buttery rolls. Heat-and-eat options include smoked turkey, prime rib and more, with all the trimmings.
4.  Tobiuo Sushi & Bar is offering a take-home meal of maki and Japanese small plates. Not exactly what you'd think of for Thanksgiving, but they have a feast prepared for you, with things like Texas wagyu maki roll, king crab mac 'n cheese and much more. Cost is $140 for six, or a feast for 12 is $320. Order by Nov. 24, pick up during regular business hours.
5.  The annual Katy Community Thanksgiving Feast can't happen this year like normal, so instead, participating Katy Feast churches are partnering with Katy Christian Ministries to provide side dishes for families who would like to prepare their own Thanksgiving feasts. KCM will distribute boxes of feast fixings and a donated turkey to families in need.
6.  Thinking about how much weight you'll gain from your delicious Thanksgiving feast? The YMCA of Greater Houston is hosting a Katy Area Virtual Turkey Dash. You can complete your run anytime between now and Nov. 29. Choose between a 10K, a 5K or a 1 Mile Walk/Run. There will also be a new Katy YMCA Turkey Hunt, a scavenger hunt, this year! There will still be costume contests and medals. Sign up!
For more Thanksgiving meal options in Katy, check out this list.
As your Katy real estate agent, I hope you enjoy your Thanksgiving dinner, whether you cook it yourself, pick it up, or dine out! If you have real estate goals, give me a call. The holidays are upon us, but the real estate market is still hot! There is still lots of opportunity to buy, sell or both in the Katy real estate market this year.
Mickie Cioccia | Broker Associate
Mickie C Team
Check Out Our Website
See Katy and Houston, TX Homes for Sale 
Become Our Facebook Fan
Follow Us on Twitter
Connect With Mickie on LinkedIn
Contact Our Team
Share on Facebook