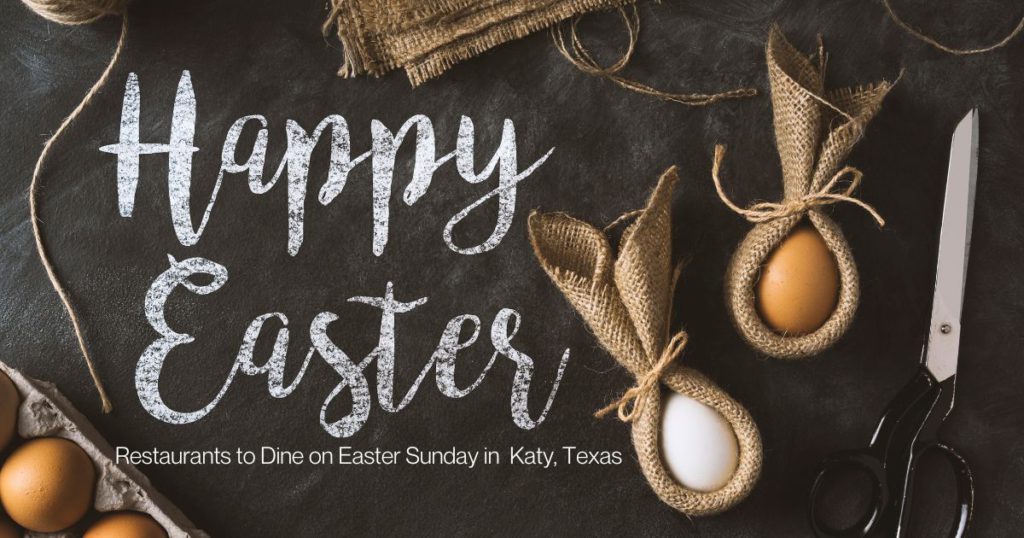 If you are looking for a restaurant to dine on Easter Sunday in Katy, Texas , you're in luck! Because there are a variety of great restaurants in the area that offer tasty food and festive atmosphere. Here are some of the best restaurants to dine in Katy, Texas on Easter Sunday:
Antonia's Restaurant: Traditional Italian dishes & wine presented in a warm, family-friendly space with an outdoor patio.
If you're looking for a steakhouse dinner on Easter Sunday, the Saltgrass Steak House is the perfect choice. This restaurant offers a variety of steak dishes, from the classic filet mignon to the more unique bone-in ribeye. You can also find a selection of seafood and poultry dishes, along with salads, soups, and sides.
Easter Sunday dining establishments in Katy, Texas

Texas Tradition: Family-friendly dining on burgers, steaks & seafood in a super-casual setting with picnic tables. Located in 5321 Highway Blvd Katy, Texas 77494-1306.
Pearl & Vine: Seafood, wood-fired steaks & wine served in an elegant restaurant with an oyster bar. Committed to exceptional quality and integrity. The energetic atmosphere is perfect for any occasion.
Black Bear Diner Katy: serving familiar all-day comfort food & dessert in a woodsy setting. You will never run out of all-day breakfast options because they have a lot to choose from. As a family-style restaurant, Black Bear Diner Katy, Texas offers a great atmosphere for all ages and is the perfect spot for a family outing or date night.
Other Easter Eateries in Katy, Texas
Los Cucos Mexican Cafe: Texas is a family-owned and operated restaurant that offers a wide selection of Mexican dishes. They specialize in authentic Mexican cuisine, with all of their recipes derived from a family recipe book that has been passed down over generations. Their menu features traditional dishes such as enchiladas, tacos, burritos, fajitas, and quesadillas, as well as seafood dishes such as shrimp and fish tacos. They also offer a variety of house-made salsas, guacamole, and chile con queso.
If you're in the mood for some classic American appetizers, BJ's Restaurant & Brewhouse is the place to go. They offer delicious entrees like seafood, steak, and burgers, as well as tasty appetizers and desserts. .
Alegria Brazilian Grill: is a top-rated Brazilian steakhouse located in 24449 Katy, Texas. It offers authentic Brazilian cuisine, with an extensive selection of meats, seafood, and vegetables. The restaurant is known for its signature Gaucho-style rodizio service, a traditional Brazilian barbecue where guests are served a variety of meats and sides. Alegria Brazilian Grill is open seven days a week, and reservations are recommended. Best known in 3 things: Fresh ingredients, magnificent service and sociable atmosphere. If you haven't tried Brazilian food yet, try it now!
No matter what type of restaurant you're looking for, there's sure to be something to suit your tastes in Katy on Easter Sunday. With a variety of dining options, you're sure to find something delicious to enjoy.
However if you are thinking of a simple but great weekend with your kids, CLICK HERE for more lists of adventures for the weekend.
Happy Easter!